The 2018 DTU Jobs Fair with 2,500 Applications
On June 3, DTU collaborated with the Nguoi Lao Dong newspaper to hold the 2018 Jobs Fair. This year's event attracted 91 companies offering thousands of job opportunities to local students.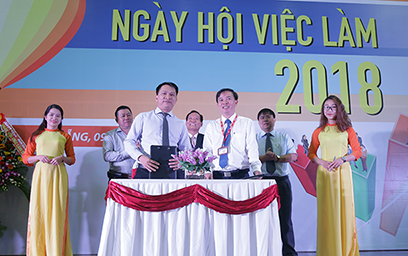 DTU signs a partnership agreement with VPBank
DTU develops relationships with business to improve the quality of education, research and technology transfer, meet market requirements and create new job opportunities. Over the past twelve years, the DTU Job Fair has been attended by 700 local companies and received 26,459 job applications for 18,500 positions.
Robert Menzies N.D Francis, General Manager of the Almanity Hoi An Wellness Resort said: "The Job Fair allows companies to promote their image and brand and locate candidates meeting their recruitment requirements. It also helps the students to find jobs fitting their abilities and interests. One of the advantages students have is their youth, at a time when there are many new and attractive career opportunities. In addition to your university education, you now have time to broaden your living and work experience. To realize your ambitions, you should remain focused on finding a really good job and always continue to believe in yourself."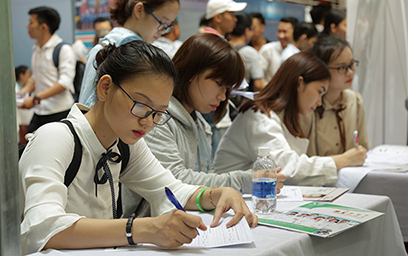 Thousands of local students attended the Fair
This year, companies received 2,539 student applications, 805 in Economics, 894 in Hospitality and Foreign Languages, 383 in Engineering, 219 in Health Sciences and 219 others.
DTU also signed a partnership agreement with VPBank to broaden internship and career opportunities there.
Le Thi Thanh Hoai, from K20 KKT2 in Accounting, said: "The 2018 DTU Job Fair is a very important event. In these times of fierce economic competition, it is not easy to find a job fitting one's abilities and interests. As participants we can plan a more effective study strategy and explore every opportunity available. I have applied for a job as a Bank Teller and I will try my best at the upcoming interview."
(Media Center)