DTU Internship and Career Opportunities
From November 4th to 14th, the DTU International School worked with several Danang companies to organize a series of recruiting seminars for IT, CMU and PSU students, to familiarize them with the hiring process and arrange meetings with prospective employers.
The first seminar was entitled "Software Testing Trend - Career Prospects at LogiGear", and explained current LogiGear professional requirements, including proficient language, problem-solving and other skills.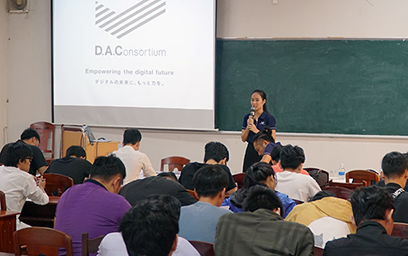 A DAC Tech representative speaks
Other seminars included "Job and Internship Opportunities at MGM" and "Tech Add - Jobs in Digital Marketing" and also provided a deeper understanding of several current careers opportunities. Sales and marketing, software development for online entrepreneurs and other topics were also covered to help focus on the skills required to plan an appropriate career path on graduation.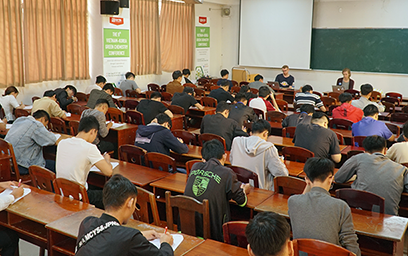 DTU students take a quick test
In addition, the students were provided further information about IT working environments, company cultures, internship opportunities and on specialized jobs, in Software Engineering, Testing, Application Development, Information Security and so on. Some final-year students took a quick multiple-choice test of their IQ, EQ and English and were interviewed by recruiters after the seminar.
Nguyen Huu Tuong, of K23 CMUTTT at the International School, said: "This series of internship and career recruiting seminars has helped us learn a lot about potential employers. In addition to job qualifications, we were also told about practical work requirements, remuneration and personal development, which will help us now concentrate more on our study plans and refine the necessary soft skills".
(Media Center)