An Exchange with Local Business
On February 22, the DTU Faculty of Humanities and Social Sciences met with several local companies to explore internship and career opportunities. Tourism Culture, International Relations and Multimedia Communications students attended.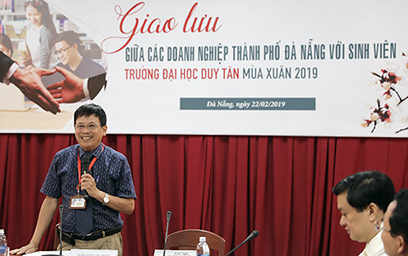 Students question companies about jobs in Hospitality and Tourism. Photo: AN
Mr. Huynh Tan Vinh, Chairman of the Danang Tourism Association, talked about the recent rapid development of tourism in Danang and other parts of Vietnam. The hospitality sector is growing well but not exactly as planned, with Vietnam becoming particularly overly-dependent on Chinese and South Korean visitors.
One important issue Mr. Huynh Tan Vinh brought up was that a great many Chinese and Korean tour guides are currently working in Vietnam who should be ultimately replaced by qualified Vietnamese Tourism graduates. Mr. Huynh Tan Vinh stressed that the hospitality sector needs to be better managed, to ensure that profits generated by its strong growth are shared primarily between Vietnamese companies and professionals only.
An MOU was signed to develop a stronger foundation in some sectors, focusing on scheduling Tourism field trips and internships, and holding career orientation sessions and workshops to share experiences and suggestions relating to job requirements.
(Media Center)