A Thousand Job Positions at DTU IT Job Fair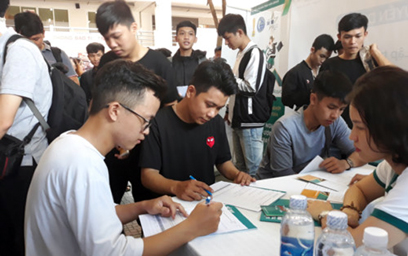 The IT Job Fair at DTU recruiting for almost a thousand IT workers
On May 11, DTU held the first 2019 IT Job Fair, with representatives of 21 national businesses in attendance, recruiting for a total of one thousand positions.
According to the 2018 report of the Commonwealth Scientific and Industrial Research Organization on the digital economy in Vietnam, the country will need a million IT professionals in 2020, mostly in Artificial intelligence, Cloud storage, Virtual reality, Augmented Reality and Blockchain, as well as the Internet of Things, e-Commerce, business processes and IT outsourcing.
To enhance the quality of IT education standards and graduate better-qualified students, besides assembling a team of expert lecturers and investing in modern facilities and equipment, DTU collaborates with Carnegie Mellon, one of the four leading American IT universities, to implement advanced international-standard programs in Software Engineering, Information Networks, and Network Security
In 2018–2019, DTU awarded one thousand Bachelor degrees to graduates of IT and Engineering.
(Media Center)