A Career Orientation Program by HOIANA
On April 23, DTU and Hoiana South Development (HASD) held the Career Orientation program, attended by students of Hospitality and Tourism.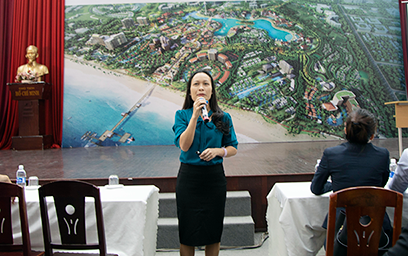 Representatives of Hoiana present information on job recruitment
Mr. Nguyen Quang Vinh, Director of the DTU Business Relationship & Technology Transfer, said: "Over the years, DTU has consistently enhanced the quality of education to adapt to evolving social requirements. The university has collaborated with national and international organizations to broaden internship and career opportunities. With their support, the Career Orientation program provides DTU students with a great opportunity to study and learn the vital professional skills for their future careers."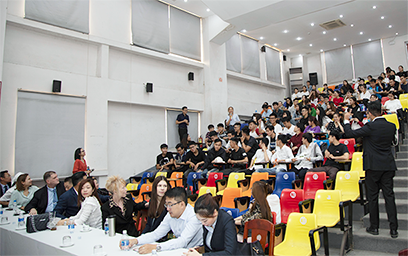 DTU students question Hoiana representatives
The Hoiana South Development Project is located in Thang Binh and Duy Xuyen, in Quang Nam province, and owns 1,000 hectares worth $4 billion for development over the next 20 years. The project will comprise hotels, residential townships, entertainment areas, commercial centers and a golf course, providing guests with a self-contained world of entertainment, leisure, pleasure and luxury living. Hoianna will hire the best-qualified employees nationwide in services, administration, sales, marketing, finance and operations.
The Hoiana senior staff talked about their experiences, answered questions, revealed the secrets to success and spoke about the challenges involved working in the services industry and jobs available, such as Housekeeping, Food and Beverages, International Marketing, Security, Engineering and Customer Care. Hoiana offers thousands of attractive job opportunities in a highly professional and multicultural work environment, with specialized training courses and big opportunities for promotion, competitive pay, and accommodation at the staff village.
HASD's Career Orientation program at DTU will help students orientate themselves for the future and find jobs matching their personal strengths and abilities.
(Media Center)