An Agreement with Lovepop Vietnam
On May 16, DTU and Lovepop Vietnam organized a recruitment program entitled "Create one billion magical moments with Lovepop" and signed an agreement to offer work to Architecture and Graphic Design majors. Mr. Ha Trinh Quoc Bao, Deputy-Director of Lovepop Vietnam, Mr. Nguyen Dang Minh Vu, Human Resources Manager, Ms. Pham Ngoc Uyen My, Design Manager, Dr. Nguyen Huu Phu, DTU Vice-Provost, Dr. Le Vinh An, Dean of Architecture and many Architecture students attended.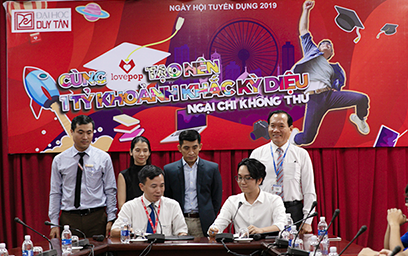 DTU and Lovepop Vietnam sign an agreement
DTU students of Architecture and Graphic Design had a chance to get to know the company, participated in a card design competition and were given presents by Lovepop.
Founded in 2015, Lovepop Vietnam specializes in producing and exporting pop-up cards to the US. They create hundreds of different designs for anniversaries and holidays, and work hard to satisfy customer requirements.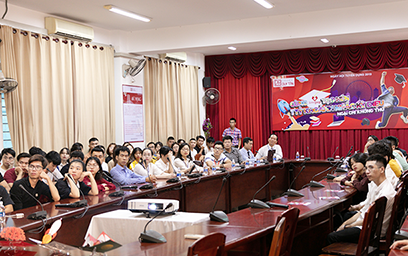 DTU students
Mr. Ha Trinh Quoc Bao said: "In 2014, two Harvard students, Wombi Rose and John Wise, traveled to Vietnam, where they discovered pop-up cards. Back home, they founded Lovepop and launched their first products. Later on, they opened branches worldwide, including one in Vietnam. Graphic Design is one of the key majors at DTU, and we know our partnership with Lovepop will broaden internship and career opportunities and provide jobs for DTU Architecture and Graphic Design graduates.
(Media Center)