The First IT Job Fair Recruited for a Thousand Positions
Last weekend, DTU held the first 2019 IT Job Fair, with representatives of 21 businesses in attendance, recruiting for nearly one thousand positions.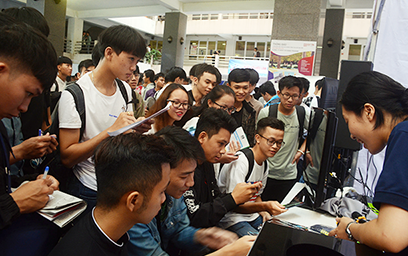 DTU students of IT applying for jobs
Dr. Nguyen Huu Phu, DTU Vice Provost said that a great concern and issue at many universities now was to find ways to improve IT education standards and graduate qualified students, in order to satisfy the increasingly exacting industry demands of the multinational corporations setting up branches in Vietnam this year. Recently, more and more of those IT companies have faced a shortage of professionals in 2019, with 53% of the 69 IT companies in Vietnam needing from 10% to 30% more staff. The demand this year is up to 30% to 50%, and 9% of employers want to recruit 50% more programmers.
According to the 2018 report of the Commonwealth Scientific and Industrial Research Organization on the digital economy in Vietnam, the country will need a million IT professionals in 2020, mostly in Artificial Intelligence, Cloud Storage, Virtual Reality, Augmented Reality and Blockchain, as well as the Internet of Things, e-Commerce, business processes and IT outsourcing. In 2018, an IT worker in Danang typically earned 14.8 million dong per month.
Dr. Le Nguyen Bao, DTU Provost said that DTU had always had a policy of using IT to spearhead its educational strategy. As well as assembling a team of expert lecturers and investing in modern facilities and equipment, DTU collaborated with Carnegie Mellon, one of the four leading American IT universities, to implement advanced international-standard programs in Software Engineering, Information Networks, and Network Security. Also, DTU has partnered with many big IT companies, national and overseas, to conduct professional training courses and career orientation sessions for students to secure good jobs after graduation.
A great many alumni of international-standard programs from the DTU International School have key positions at big companies, such as: Tra Anh Dong, a student of Network Security of class K19CMUTMT, is now a technical support specialist at HP, Malaysia; Ngo Viet Hoang, a students of CMU standard Software Engineering of class K16CMUTPM, is now a senior software architect at Flex, the US; Pham Thi Le Trinh, a student of Management Information Systems of class K14CMUTTT, is now project manager at Enclave and Nguyen Tien Thanh, a student of Management Information Systems of class K16CMUTTT, is now a Marketing Manager at Sun World Corporation.
According to Ms. Hana Fiedler, Marketing Director of MGM Technology Partners Vietnam, the Job Fair provided businesses with a great opportunity to promote their companies and employ better-qualified staff to meet their increasingly needs.
In 2018-2019, DTU awarded one thousand Bachelor degrees to graduates of IT and Engineering, 95% of which immediately got their job after graduation.
(Media Center)