Master's Thesis Subjects Ceremony for Kien Giang and Dak Lak K17 Students
On April 27th, the DTU Graduate School held a ceremony for the graduate school students in the K17 Master's program who are from Kien Giang and Dak Lak provinces and who came to Danang to receive their thesis subjects.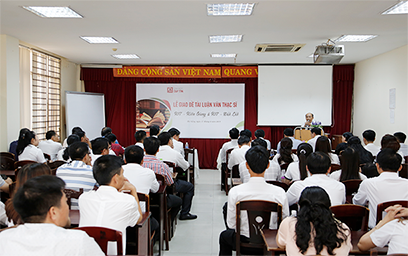 K17 Master's program students from Kien Giang and Dak Lak
Assoc. Prof Le Duc Toan, DTU Vice-Provost, said: "Over the past years, DTU has made steady progress in training quality. Annually, DTU not only invites foreign qualified lecturers from famous universities in the U.K. and the U.S. to teach DTU students, but it also sends DTU lecturers to universities over the world to participate in training programs to acquire advanced teaching methods. Because you all live in Kien Giang and Dak Lak provinces, DTU designed a suitable program to help you complete your education while working. Starting tomorrow, you will have to write your thesis. Hopefully, you will all work hard to complete the course and bring your knowledge to bear on your work."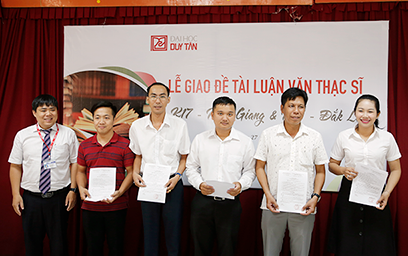 Dr. Vo Thanh Hai, DTU Vice-Provost (far left in picture) awarding Master's thesis topics to the students
The DTU Graduate School distributed Master's thesis subjects to 46 Master candidates in Business Administration in Kien Giang, and to 21 in Finance and Banking and to 6 in Accounting in Dak Lak. Officers of the DTU Graduate School provided them with the requirements and procedures when writing and defending their theses.
Mr. Bui Thanh Tuan, a student in the K17 Master's program, said: "For us, today is an important day, marking the moment we completed the subjects in the program. Thanks go to DTU for offering the Master's degree program to Kien Giang and Dak Lak students and allowing us to complete our education while working. We are also grateful to DTU lecturers for instructing and helping us during the past time. We promise we will complete our theses and keep our knowledge and skills up to date."
(Media Center)