The Opening Ceremony of the 2nd DTU Student Sports Event
The 2nd DTU Student Sports Event, one of the programs held by DTU's Executive Board to celebrate DTU's 25th founding anniversary and welcome the 8th Congress of Representatives of the DTU Ho Chi Minh Communist Youth Union for the period 2019-2022, officially opened on April 17th with many interesting games.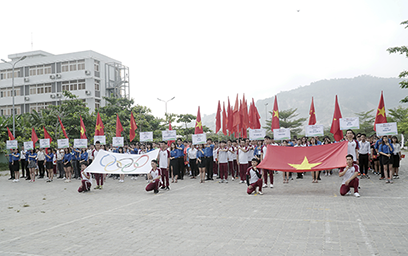 The opening ceremony of the 2nd DTU sports event
The event attracted the participation of more than 500 athletes, competing in many sports such as five-a-side football for men and women, volleyball for men and women, tug of war, long and short distance races and long jump. DTU students not only had opportunities to meet and discuss with each other but they could also improve their health.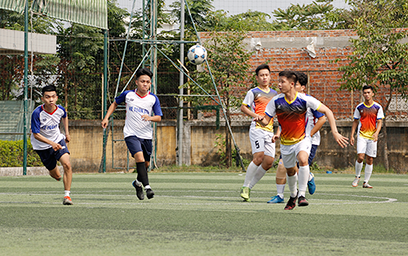 The football match between the Faculty of Accountancy (white T-shirts and blue shorts) and the International School teams
After the opening ceremony, some games began right away, such as the 100-meter sprinting race, the 400-meter and 800-meter races and the long jump. No matter the summer heat, they still tried their best to play fair. They seemed to grow stronger when the spectators screamed loudly to support them and cheered for their good results.
Among the many games, the spectators were attracted most by two football matches: the one between the International School and the Faculty of Accountancy and the one between the Faculty of Electrical Engineering and the Faculty of Hospitality and Tourism. The teams played professionally and entertained the spectators with hard shots and terrific passing skills. Finally, the International School overwhelmed the Faculty of Accountancy 10-0 and the Faculty of Hospitality and Tourism beat the Faculty of Electrical Engineering with the score of 3-1.
This sports event will last until May 4th at the DTU Sport Stadium in South Hoa Khanh. Let's watch and cheer for athletes.
(Media Center)