The Finals of the 2019 English Debating Competition
The finals of the fourth English Debating contest was held at the Quang Trung campus on March 30, solely in English, which gave DTU students the opportunity to improve their debating and language abilities.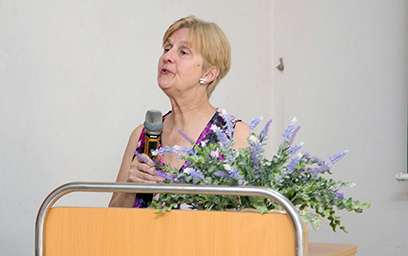 Professor Barbara G. Howell from Lorain College in the USA speaks
Ten of the finalists debated key current topics: "Starting up with the family support", "Animal testing", "Time restrictions for children using devices" and "Technology has improved our lives"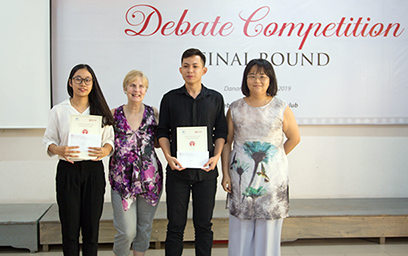 First prizes are awarded to the most convincing students
Contestants were able to confidently display their English listening and speaking, research, presentation and persuasive skills.
Le Nhat Hoang Anh of K23 TROY DLK said: "The English Debating Contest enabled my colleagues and I to hone our communication, critical thinking and problem-solving skills, which will be vital in our future careers. At the same time, I was able to exchange ideas in English critically and creatively with the other contestants."
The winners of the contest were Nguyen Thien Huong from K23 YDK6 and Dang Van Tri from K23 YDK1, who came first; Doan Thuy Linh, from ADP K23 and Vo Thi Tu Vy from K24 ADP, who came second. Six consolation prizes were awarded to Le Nhat Hoang Anh from K23 TROY DLK, Nguyen Thien Huong from K23 YDK6, Ngo Thanh Trung from K24 ADP, Le Thi Thu Ngan from K23 KEU QTD, Nguyen Vu Nhat Ha from K23 YDK6 and Phan Van Thinh from K23 KEU.
(Media Center)