Odontoid-Stomatology at DTU
As well as the General Practitioner major, another course attracting the interest of many incoming students is Odontoid-Stomatology. Here are the answers to some of their questions.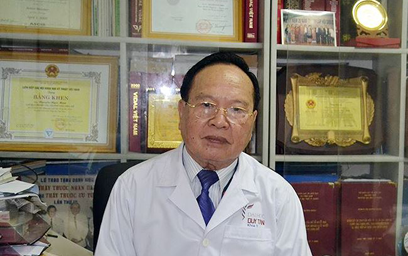 Odontoid-stomatology is a special new discipline that addresses two current popular concerns, health and beauty. We met with General Practitioner and Associate Professor Nguyen Ngoc Minh, DTU Vice-Provost and Director of the Institute for Medicine, Biology and Pharmacology to clarify the details.
Reporter: Recently, cosmetic and orthodontic surgery is becoming more acceptable. Some patients may have unattractive features which limit their comfort and success in life. So odontoid-stomatologists now have a more important role to play in our community, don't they?
Associate Professor Nguyen Ngoc Minh: That's true. As our ancestors used to say, "Teeth and hair make a man". So Operation smile, which provides cleft lip and palate repair, and orthodontics surgery involve the latest esthetic correctional microsurgery techniques that odontoid-stomatologists now use.
Reporter: Odontoid-stomatologists now play an important role in medicine today, which has attracted increased student interest. However, the Vietnam Odontoid-Stomatology Association has reported that the number of specialists in this field is still way too low, with only one doctor for every sixty-thousand people. Why is this?
Associate Professor Nguyen Ngoc Minh: There are many reasons but two main factors. Firstly, as Vietnam develops, living standards are rapidly rising, leading to stronger demand over a very short period of time. Another one is that odontoid-stomatologists cannot be graduated in big numbers, as the discipline requires great precision, specialized curricula, lecturers and facilities. Health Science majors, such as Pharmacology and Nursing, can graduate hundreds of students a year, but the Odontoid-Stomatology courses can only enroll from fifty to seventy to allow for in-depth, high-quality training requirement.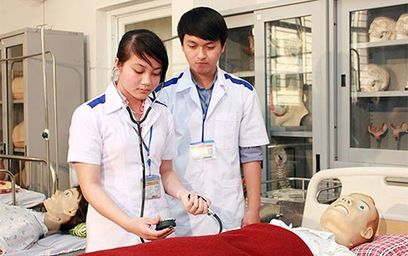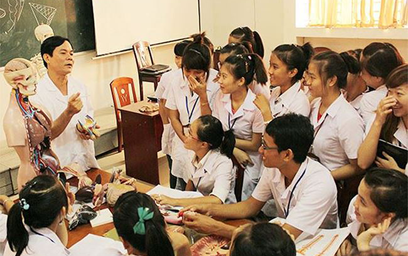 DTU Health Science students train in standardized laboratories
Reporter: Is that why DTU is offering a new Odontoid-Stomatology major in 2019? How is DTU preparing for this? How can a university with over ten years of experience in Health Science adapt?
Associate Professor Nguyen Ngoc Minh: In 2009, DTU began offering a major in Nursing, which opened the door for Health Science education here. The university followed up by introducing further majors in Pharmacology and General Practitioner as its reputation developed. Their long-term strategy included inviting local doctors and pharmacists to lecture at DTU and collaborations with big international universities, such as the University of Illinois in Chicago, the University of Pittsburgh and universities in Thailand, Hong Kong, Singapore and so on.
Arrangements were made with eighteen hospitals, such as the Danang Hospital, the Ministry of Public Security Hospital 199 and the Military Medical Hospital 17, where students can gain experience and study practical clinical procedures in real-life.
DTU has been planning to offer a major in Odontoid-Stomatology to meet demand and has now been authorized to do so. 28 specialized laboratories have been created where medical and pharmacological students can train.
For example, the Center of Visualization & Simulation has been developed to provide 3D virtual reality simulation applications to revolutionize teaching methods and improve medical education. Meanwhile DTU has assembled an excellent team of expert professionals, consisting of 3 Professors, 9 Associate Professors, 15 PhDs, 2 research students, 27 Masters, 28 postgrads, and 10 doctors and pharmacologists.
Further support is provided by Natural Science lecturers and agreements have signed with skilled doctors at the Danang Odontoid-Stomatology Center and the Hue Central Hospital, where students can intern in dental and oral health and esthetics.
Reporter: "Dentists have the heart of a doctor, the hands of an engineer and the soul of an artist." How can you help students meet these exacting requirements?
Associate Professor Nguyen Ngoc Minh: It is a long and arduous training process. The two factors we explained define all the qualities demanded of odontoid-stomatologists. The difficulty is finding hard-working and committed students. However, I have much faith in the youth of the 4.0 technology generation, along with all those who have studied Health Science at DTU. They all understand well that, without a dedicated and high-standard education, they will fail.
Reporter: Odontoid-Stomatology is currently very popular because it offers a prestigious and well-remunerated career path. However, not anyone is qualified to it because of the impact on their everyday lives, health and future aspirations. What do you advise DTU applicants who want to pursue this major?
Associate Professor Nguyen Ngoc Minh: Applicants should be able do proper research before deciding. It is an unusual major and graduates must have acquired a broad, in-depth knowledge of the health sciences and odontoid-stomatology to succeed. They will then be proud of their dedication to their patients and their role in improving lives. Uncle Ho once said "A good doctor is like a mother". So live up to the Hippocratic Oath and follow the example of the founding doctors of Vietnamese traditional medicine, such as Tue Tinh and Hai Thuong Lan Ong, who are shining examples for later generations to follow.
Reporter: Thank you very much!
In 2019, DTU will award scholarships to qualified Odontoid-Stomatology applicants:
- 50 full or partial scholarships, totaling 17 billion vnd for the On-Site Study-Abroad American degree program, to:
+ Students who who obtained a first, second, third or consolation prize in a national skilled student contest or in a national science or technology contest held by the Ministry of Education and Training.
+ Students with a combined High School Graduation exam score of 22 or more.
- 720 DTU scholarships totaling 1 billion vnd for Odontoid-stomatology applicants with a total High Graduation Exam three-subject score three points higher than the admissions minimum.
Subjects for admissions:
Major

Major code

Subjects

High School Graduation Exam Grade

Odontoid-Stomatology

7720501

304

1. Maths, Physics, Chemistry (A00)

2. Maths, Natural Sciences, Literature (A16)

3.Maths, Chemistry, Biology (B00)

4. Maths, Natural Sciences, English (D90)
For more information on Odontoid-Stomatology at DTU, see: Doctor of Odontoid-Stomatology
For detailed information, please contact the DTU Enrollment Center
254 Nguyen Van Linh, Danang
Hotlines: 1900.2252 - 0905.294390 - 0905.294391
Website: http://tuyensinh.duytan.edu.vn
Email: tuyensinh@duytan.edu
(Media Center)