International Scholarships for DTU Nursing Students
In 2019, DTU offers many new scholarships for qualified students and alumni working in medical facilities or teaching. Let's talk to Ms. Doan Nu Nga My, a lecturer in the Faculty of Nursing. She's a DTU summa cum laude graduate in General Nursing who has just won a scholarship to study in Japan.
For many years now, Nursing has been an extremely popular major that guarantees employment for all. Was that one of the reasons you chose to study it?
Ms. Doan Nu Nga My: I won't deny that excellent job opportunities at home and abroad do increase the attraction of Nursing. For me, however, that was a secondary reason. Since I was young, I have always wanted to help cure anyone who was sick, especially my relatives. As I grew up, I became interested in doing health research and learning about the medical technology used in more developed countries to cure illnesses and improve public health. This ambition finally urged me to choose this important major.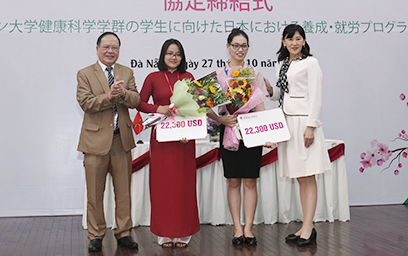 Seirei CEO Ms. Yuko Kamata (right) awards Ms. Doan Nu Nga My (in red ao dai) her scholarship
Nursing also allows students to study overseas, with the increasing possibility of securing a permanent job in a developed country. Is that why Nursing has been attracting more and more applicants?
Ms. Doan Nu Nga My: The demand for nurses is huge. With a rapidly aging population, countries like Japan and Germany are desperately searching for foreign staff to go for training and employment. Many incredibly attractive scholarships available to do this, so Nursing is indeed an excellent choice and the number of university applicants has been increasing year-after-year.
Opinion has spread recently that the nursing profession involves nothing more than running errands for doctors, taking blood pressure, giving injections, intravenous drips and so on. What is your opinion?
Ms. Doan Nu Nga My: That idea took root long ago, but let me make two observations from my experience. Firstly, nurses work independently and, secondly, they coordinate other medical staff in their jobs. They take the initiative to effectively care for patients and share information with doctors and other medical staff. Their responsibilities are numerous, including administration activities, the processing of health insurance forms and working communally to provide information, advice and support on health issues and disease prevention, in partnership with the doctors.
How does DTU educate students to graduate as highly-qualified, high-performance nursing professionals, such as yourself? What were your favorite subjects when you were studying?
Ms. Doan Nu Nga My: DTU and other universities guarantee an education that provides all the essential information and skills required by future nurses. The DTU education program, however, has several unique factors that I'm still quite proud of. The university collaborates with many well-established universities to offer advanced international Nursing programs. Partners include the University of Illinois in Chicago, which has the largest medical and pharmacology courses in America, and the University of Pittsburgh, one of the leading American universities in in medical research.
DTU also employs innovative new teaching technologies, such as the "3D VR Imaging Technology Application of the Human Body for Healthcare Study and Research", developed by the DTU Center of Visualization & Simulation, which won a first prize at the 2017 Vietnam Talent awards, and a 2018 Sao Khue award. Students can also participate in practical extracurricular activities to improve their understanding of informatics, foreign languages, communications, problem-solving skills and teamwork requirements, all essential in Nursing.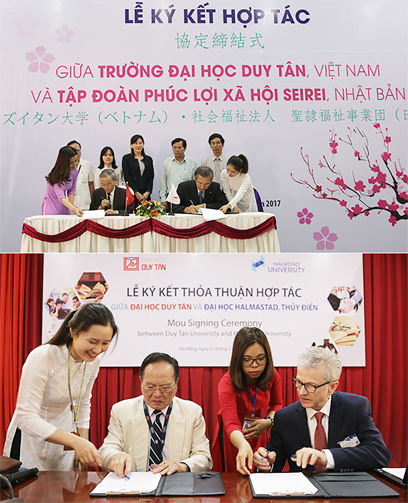 DTU signs agreements with foreign partners
When you graduated in Nursing with Honors, you obviously had many good job offers. So why did you choose to become a lecturer at DTU? Was there one special reason that led you to make this decision?
Ms. Doan Nu Nga My: First and foremost, I learned a lot academically during my four years at the university, from both my lecturers and colleagues. The DTU Nursing program is very comprehensive and understandable in terms of the information provided and how it relates to our future careers.
I observed how the special DTU curricula and teaching methods continually achieved good results and I wanted to become a member of the lecturing team. I wanted to train Nursing students to the same high skill-level that I now benefit from and did not hesitate in my decision to remain at DTU.
After lecturing for two years at DTU, you were awarded a 2.5 million-yen scholarship by the Seirei Social Welfare Community, a big, well-known Japanese healthcare recruiter. You begin training there in April. Could you please tell us how you achieved this, in order to assist other 2019 applicants?
Ms. Doan Nu Nga My: After two years of work, I received a Seirei scholarship to continue studying in-depth social welfare and elderly healthcare in Japan. Winning a scholarship required a strong, moral foundation of practical Nursing knowledge and skills. A basic understanding of the Japanese language was also provided by DTU but I personally recommend that you increase your chances by also studying alone to meet the stringent qualification requirements for scholarships. I would advise prospective 2019 Nursing applicants to focus on the unique DTU learning environment, like I did. If you can achieve that and then do your utmost, all your dreams will finally come true!
In 2019, DTU continues awarding a several preferential scholarships to General Nursing students
- DTU scholarships: 720 scholarships worth from one to five million dong each for applicants with high school graduation scores from three to ten points higher than the admission requirements.
- Other scholarships: 700 scholarships worth from 500 thousand to 2 million dong each for applicants with total high school scores of 22 points or higher, including General Nursing applicants.
- Other scholarships: worth 5 million dong each for first year General Nursing students who have won consolation prizes at national student contests or at national science and technology contests.
- Students from Quang Tri, Quang Binh, Quang Ngai, Ha Tinh, Nghe An and Thanh Hoa will each be awarded 1 million vnd if they enroll in the General Nursing program.
For further information, please contact:
DTU Enrolment Center
254 Nguyen Van Linh, Danang
Hotlines: 1900 2252 - 0905 294 390 - 0905 294 391
Website: http://tuyensinh.duytan.edu.vn
Email: tuyensinh@duytan.edu
(Media Center)