A DTU lecturer and her thoughts about Vietnamese Studies
Mrs. Tran Thi Anh Nguyet, a young DTU PhD, is known for her research in the field of Social Science & Humanities. She helps her students to win significant prizes and, in 2018, Le Van Thang came third in the Euréka Scientific Research competition.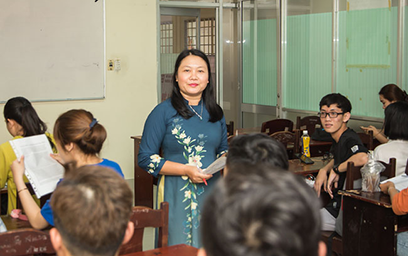 Dr. Tran Thi Anh Nguyet lectures at DTU
"After nine years of studying and working in Hanoi, I came to Danang to find a more creative and energetic environment to experiment with some new teaching methods. The new Tourism Culture majors is still not fully understood and I consider that one of my challenges is to change that.", said Mrs. Anh Nguyet.
Students cannot succeed if studying without demonstration.
Research projects are now very popular with Technology majors have proven to be too complex for Social Science majors. However, we can't create something new without hard work, so the effort will be intense and stimulating for improve their understanding.
"It's believed that Vietnamese Studies only focuses on our culture. However, I think it also really includes Vietnamese literature, our language and people. The DTU Tourism Culture specialty makes sense at a time when the future direction of tourism in Danang is unclear. Discovering examples of the beauty of our culture will be a practical way of attracting more tourists."
Every lecture should identify "gaps" in our knowledge and propose ways of filling them. Lecturers and their students must work together to combine theory with practical field-trips and continuing joint research. Using this technique, Mrs. Nguyet was able to assess student ability and better understand their future aspirations.
She received messages, such as, "My family has problems, what can I do?", "I don't want to even try", "I haven't paid my tuition fees yet", which worried Mrs. Anh Nguyet greatly, because students can't study well under those conditions. So she talked to them all night to work out solutions to every problem, every difficulty. After that, they understood each other better and progressed in their teaching, learning and research.
"DTU has many talented students but, for some reason, they still don't know why or how to study. So I always help each student according to their special needs. Le Van Thang is an excellent example.", added Mrs. Anh Nguyet.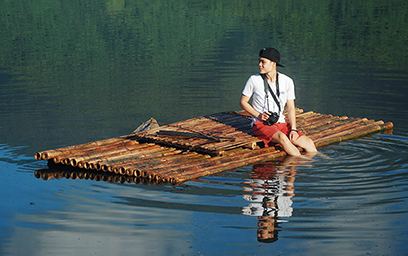 Le Van Thang
Effort opens doors
"In Vietnam, we have focused on investing in resorts and entertainment, overlooking our traditional customs, habits and festivals. If we can combine cultural tourism with sensible investment and conservation, our history will be preserved and our real culture will become well-known all over the world. Students must cultivate a deeper appreciation of all aspects of Vietnamese tourism, culture and people to promote and develop local tourism and improve cultural integration and exchanges.", said Le Van Thang.
What changed the thinking of those who originally disliked and were bored by the Tourism Culture major? The educational environment at DTU, with a many dedicated teachers like Mrs. Nguyet shed a new light and helped informed students choose their favorite courses themselves.
Thang's work has been selected for presentation at conferences and published in respected journals, including:
- "Marine and fluvial ecological awareness in the Quang Region through folk songs", presented at the 5th International Conference of Vietnamese Studies.
- "Marine and fluvial inspiration in Quang regional folk songs from the perspective of eco-criticism", published in the Folklore Journal.
- "Searching for the sad folk song lyrics from the marine and fluvial Quang Region", published in the proceedings of the 2017 International Conference on Research and Teaching in Vietnamese Studies,
- "Marine and fluvial ecotourism through Quang Region folk songs", published in the proceedings of the First International Conference on the Sustainable Development of Tourism in Central Vietnam and in ASEAN.
The Euréka Prize
With the support of Dr. Anh Nguyet, Le Van Thang won Third prize in the 2018 Euréka Student Research contest with his project "Quang Regional Rivers and Sea Folk Songs from an Eco-Critical Point of View".
Le Quang Thang and Mrs. Anh Nguyet
"We faced many challenges developing this project because it required access to many special documents, poems and melodies. Fortunately, we benefited from the support of experts on the Quang Region and the artist Trinh Cong Son, the Chairperson of the Danang Bai Choi Club and the Cultural Center of Danang. I am a Tourism Culture student at DTU, so I also contributed much basic information on the Eastern, Vietnamese, Cham and Central-Highland cultures, which was vital to verify our research.", Thang said.
The time that Mrs. Anh Nguyet spent helping and guiding her students certainly did not go wasted. Now she can smile, because she chose the right way that has now guaranteed a much brighter future for them all.
In 2019, DTU will award the following scholarships to Tourism Culture applicants:
- DTU scholarships worth from one to five million dong each for applicants with high school graduation scores from three points higher than the admission requirements, including Tourism Culture applicants.
- 700 scholarships worth from 500 thousand to 2 million dong each for applicants with total high school scores of 22 points or higher, including Tourism Culture applicants.
- Scholarships worth 5 million dong each for first year students who have won consolation prizes at national student contests or at national science and technology contests.
- Talent scholarships: (full or partial): 215 scholarships with a total value of 11 billion dong, including Tourism Culture applicants, with high school graduation scores of 20 or higher.
Or contact:
DTU Enrolment Center
254 Nguyen Van Linh, Danang
Hotlines: 1900 2252 - 0905 294 390 - 0905 294 391
Website: http://tuyensinh.duytan.edu.vn
Email: tuyensinh@duytan.edu
(Media Center)