Construction - A Career in Home - Building
Construction is hard, rough and boring, working all day with only concrete, bricks and mortar. This simple observation may surprise laborers, who in reality can be brave and talented at the same time.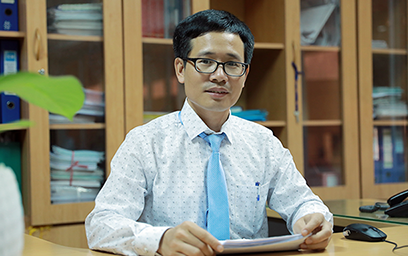 Dr. Nguyen The Duong
Construction engineers can travel to all parts of the country to build bridges, roads, houses and factories. They are establishing modern national architectural styles and at the same time creating new, more enjoyable infrastructures for travelers, families and businesses alike. The Dean of the DTU Faculty of Construction, Dr. Nguyen The Duong, has years of experience in construction training and talks about his experiences and long-term career opportunities in this sector.
Reporter: Rapid economic development has created many new opportunities in construction careers in Vietnam. However, as workforce demand is expanding, the number of students majoring in this field is going down. Is it true that building projects are slowing down recently after the boom?
Dr. Nguyen The Duong: The Industrial Revolution 4.0 is mentioned over and over again in the media, so most applicants are choosing majors in business services and information technology, which they think will lead to easy work with high wages. Meanwhile, applications for Technical Construction, Roads and Bridges, Mechanics, and Mining courses are currently dropping. This may be only temporary however, with increasing activity everywhere that demands more and more highly-qualified workers. Almost 100% of recent graduates from the DTU Faculty of Construction have found immediate employment.
All universities need to put a great more effort into assembling teams of expert lecturers, course curricula, facilities and equipment, imperative in educating the most skilled students for the best jobs. So there is absolutely no reason why applicants should not now pursue a 4 to 4.5-year course at a recognized university such as DTU. Their prime requirement should be to enroll in a university like DTU that collaborates with foreign ones to improve educational quality in Vietnam.
Reporter: Contrary to recent opinion, a career in the construction industry continues to guarantee employment and attract more potential students. Actually, although the number of Construction applicants is still decreasing, several better-known universities are still enrolling strongly. Can you comment on this?
Dr. Nguyen The Duong: Universities need to plan programs that result in gaining more local recognition and prestige. I have found, after lecturing at DTU for many years, that our students benefit greatly from our Construction partnerships with California State University Fullerton and California Polytechnic San Luis Obispo in the USA. Over the past 7 years, DTU graduates of these advanced programs have found well-paid jobs, even before graduation. Some of those who are proficient in English now work for foreign companies
Reporter: I assume that is why DTU still attracts many Construction students. Is that correct?
Dr. Nguyen The Duong: DTU has made sustained efforts over the years to invested in personnel, facilities and equipment in Civil Engineering. Courses use the most advanced CDIO teaching methodology, qualifying students to compete in national and international competitions. They study under the guidance of dedicated lecturers in an advanced study environment and have won prizes at the National Loa Thanh Tournaments, at the National Physics and Mathematics Olympiad and the Asia-Pacific Regional IDEERS Champions Cup, at the 2014 IDEERS convention, held at the National Centre for Research into Earthquake Engineering in Taiwan. Also at the Go Green in the City contest, organized by Schneider Electric.
Reporter:Construction is a major with very high practical requirements, which universities in Vietnam do not yet fully take into account. One of the problems is that Construction exams are still paper-based. Does this inhibit the practical ability of students?
Dr. Nguyen The Duong: Two of the five strategic goals we have set over the years are "practice" and "realization". Students broaden their professional capabilities by participating in paid internships to link the classroom with the workplace.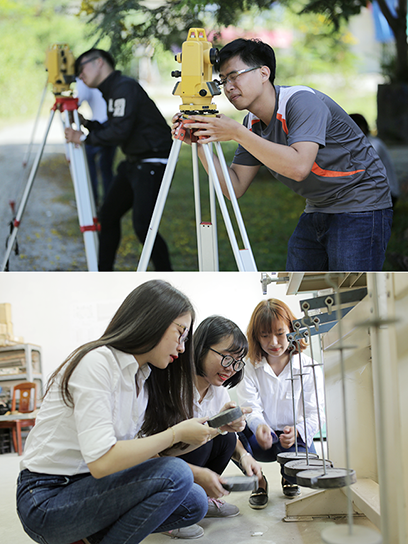 DTU students train in standardized laboratories
Reporter: Nowadays, people in the countryside prefer studying Construction through vocational training instead of at universities. They believe that it builds professional skills more quickly, leading to better and quicker employment opportunities. What is your opinion on this?
Dr. Nguyen The Duong: There are many ways to start a successful career, but no matter which path is chosen, everyone needs to strive to surpass themselves. Learning a trade is one good way to quickly find a job. Those skilled at what they do will have a good income. On the other hand, a university education takes from 4 to 4.5 years. New graduates may not find high-level jobs right away but, after several years, they will have much better promotional opportunities than vocational laborers. They will also have much better reasoning skills in technology, management and foreign languages, which will ultimately allow them to take upper management positions, create their own businesses or travel abroad for postgraduate studies.
Surveys show that, ten years after leaving DTU, almost all Construction graduates have excellent careers, own a business or hold high-level management positions at particularly high incomes. There are several who already earn $200 a month, only two years after graduation.
Reporter: Thanh you very much.
In 2019 season, DTU continues to award preferential scholarships students of Civil Engineering:
-
DTU Scholarships: 720 scholarships worth from one to five million dong each for Civil Engineering applicants with a total High Graduation Exam three-subject score three to ten points higher than the admissions minimum.
-
700 Scholarships: from 500,000 to 2 million dong for Civil Engineering applicants with a high school transcript score of 22 or above.
-
39 Full scholarships: 100% of tuition fee, with total value of 3 billion dong, for applicants to the advanced and international CMU, PSU, CSU, PNU programs, with a total High School Graduation Exam three-subject score of 23 or above.
-
Scholarships worth 5 million dong each for first-year Civil Engineering students who obtained a consolation prize in a national skilled student contest or in a national science or technology contest.
-
A 15% reduction in first-year tuition fees for 50 applicants in Road and Bridge Construction, Construction Engineering Management.
-
Ten scholarships from California State University (CSU): 10 million dong each.
-
Ten scholarships from DTU worth 5 million dong each for CSU standard programs.
Subjects for admissions:
Major

Major code

Subjects

High School Transcript

(12th-grade results)

High School Graduation Exam Grade

7580201

1. Maths, Physics, Chemistry

2. Literature, Maths, Physics

3. Literature, Maths, Chemistry

4. Literature, Maths, English

1. Maths, Physics, Chemistry

2. Maths, Social Sciences, Literature

3. Literature, Maths, Physics,

4. Literature, Maths, Chemistry

Road and Bridge Construction
Construction Engineering Management

7510102
For detailed information, please contact the DTU Enrollment Center
254 Nguyen Van Linh, Danang
Hotlines: 1900.2252 - 0905.294390 - 0905.294391
Website: http://tuyensinh.duytan.edu.vn
Email: tuyensinh@duytan.edu
(Media Center)