Student Nguyen Thi Thanh and Overcoming Prejudice against Private Universities
When speaking with this young women, whose nickname is Xiu, we discover that she is a mixture of youthful concerns and a fiery passion
.
We have known Nguyen Thi Thanh for a while, since she was a Quang Nam student and scored 28.25 in her 2015 high school graduation exam. Recently, she won a Women in Business Award in Atlanta in the USA, after coming second in August 2018 in the Asia–Pacific regional finals of the Go Green contest.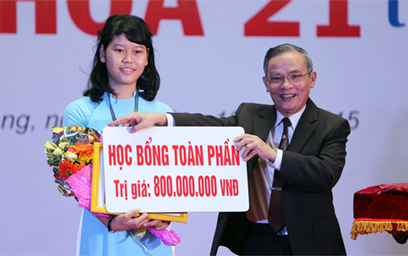 Distinguished Teacher Le Cong Co, DTU President, awards Nguyen Thi Thanh a scholarship
"Although my teachers explained the many benefits of studying at DTU, I initially had the preconception that it was a school for the wealthy. I also worried when I heard that a high level of English is required. However, I then chose DTU solely because of the valuable scholarships it offered. At the beginning, my dream was to study to be a policewoman. When I was young, I really admired the police for their combat skills and apprehension of criminals and wanted people to admire me as a hero. As I matured, I found out that I am energetic, fond of travel and drawn into interaction with others as I learn and explore the world."
The conflict between childhood dreams and growing up saddened Nguyen Thi Thanh. Then, fatalistically, Dr. Nguyen Tan Thang, now DTU Vice-Provost, introduced Nguyen Thi Thanh to DTU and everyone advised Thanh to study there, as its quality of education and prestige were already widely acknowledged.
"I had high HGE grades, so I was happy. But then I became confused. With my qualifications, I could begin police studies but was hesitating over Business Administration. Meanwhile, I became convinced that DTU would fit my personality and dreams as an adult."
Mrs. Le Thi Bich Ha Ngoc, Thanh's mother said, "If you don't try it, how can you know whether it'll suit you or not? Follow your heart and take a chance."
Thanh's sudden awakening
"It is true that, at first, I chose DTU for the 800 million dong scholarship because it could pay my tuition fees at a time when my family's finances were extremely strained. My father is a farmer and my mother stays at home to care for the neighbors' kids. But after four years of study, I am secretly thankful for the difficult decision that I made. The DTU scholarship completely changed my life," Thanh explains.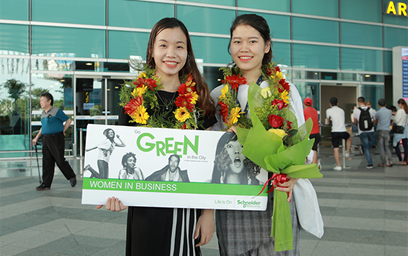 Nguyen Thi Thanh (right) and Doan Thi Thu Ha receive Women in Business Awards in America
"I learned to study the American way"
Thanh experienced many good surprises at DTU, from the unique concern of the Vice-Provost, who inquired about her health and her family situation, to the support of the Student Affairs Office, who found her a convenient residence right near the university. Thanh's major is Business Administration. As a member of the On-Site Study-Abroad program in collaboration with Keuka College she will graduate with an American diploma. Consequently, she has mostly studied with American lecturers and others from Taiwan, Russia and South Korea. Thanh's friends had told her about this in advance but it was only when she joined DTU that she discovered studying the "American way".
"It was exciting to study with Professor Gary Giss, the Keuka College Dean of International Programs in Asia, who is based at DTU. He taught us specialized professional knowledge on topics such as Leadership Techniques, International Business and Business Law and I was highly impressed by his teaching methods. He divided us up into project groups and sat down to give us each guidance. As a result, our English ability improved, as well as our self-confidence being taught by someone from a country that values freedom-of-thought and creativity. Most importantly, thanks to him, I was able to enter major competitions, such as Go Green in the City and win awards because of the presentation skills that he also taught me."
No end to human ingenuity
Thanh's dream was to compete in the Go Green in the City competition, organized by Schneider Electric. When Dr. Tran Nhat Tan, Director of the DTU Center of Quality Assurance and Testing, talked about the competition for engineering and business administration students, Thanh wanted to enter. Than she was lucky to get in, but it appeared that was meant to be. So, shortly after enrolling at DTU, her shy and indecisive nature disappeared. According to her friends, Thanh suddenly became bold and competitive and, when she joined the DTU team, she became another person, dynamic and creative, always winning big prizes.
Her projects the "Mini Toilet Generator", which uses the power of the water supply system, and the "Urine Battery", which generates electricity from urine, won Thanh and her team-mate Nguyen Cong Tin, from the Faculty of Electrical Engineering, the 2017 National Go Green in the City championship. Then Thanh worked with another colleague, Doan Thi Thu Ha, and presented their "Braking System Converting Friction into Electrical Energy" at the 2018 contest, winning the 2018 national Go Green in the City prize, going on to come second prize in the 2018 Asia-Pacific regional finals.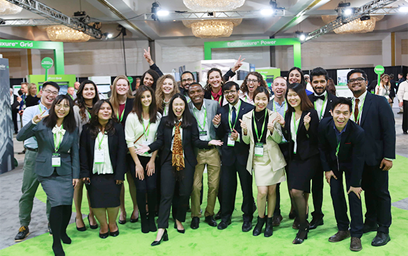 Nguyen Thi Thanh made many new friends at the 2018 Go Green in the City contest in Atlanta
An unexpected happy ending in America
In the finals, Nguyen Thi Thanh faced champions and runners-up from the intercontinental Go Green contests, competing with 2,480 university and college students from all over the world. She proved her ability by surpassed contestants from countries such the USA, China, Germany, Algeria, Indonesia, Brazil, India, Spain and Canada, to win one of the three international Women in Business Awards.
This prize recognized the talent of DTU students and highlighted Vietnamese women at an intellectually creative global contest, at the same time promoting gender equality in technology and engineering.
Nguyen Thi Thanh fully matured and gained awards that others could never win. But "Xiu" now toys with the idea of starting up a fashion business.
"I want to thank the DTU Board and lecturers in the American Degree Program, Professors Tran Nhat Tan and Dr. Ha Dac Binh and all the friends who made my life wonderful and who helped me grow up at DTU," Thanh says with a concerned heart, as before.
In 2019 season, DTU continues to award preferential scholarships in Business Administration:
- On-Site Study-Abroad scholarships: full or partial, leading to an American degree, for applicants who obtained first, second, third or consolation prizes in national skilled student contests or at science and technology fairs organized by the Ministry of Education and Training, and to applicants with a total High Graduation Exam three-subject score of 22 or higher.
- Talent Scholarships: 215 scholarships, full or partial, with total value of 11 billion dong, for Business Administration applicants with total High Graduation Exam three-subject score of 20 or above.
- Full scholarships: 100% of tuition fee for applicants to the advanced and international PSU Standard Business Administration program, with a total High Graduation Exam three-subject score of 23 or above.
- DTU Scholarships: 720 scholarships worth from one to five million dong each for Business Administration applicants with a total High Graduation Exam three-subject score three to ten points higher than the admissions minimum.
- Scholarships: from 500,000 to 2 million dong for Business Administration applicants with a high school transcript score of 22 or above.
- Scholarships worth 500,000 dong each for first-year Business Administration students who obtained a consolation prize in a national skilled student contest or in a national science or technology contest.
- Ten scholarships from Pennsylvania State University (PSU): 10 million dong each.
- Twenty scholarships from DTU worth 5 million dong each for PSU standard programs.
For detailed information, please contact the DTU Enrollment Center
254 Nguyen Van Linh, Danang
Hotlines: 1900.2252 - 0905.294390 - 0905.294391
Website: http://tuyensinh.duytan.edu.vn
Email: tuyensinh@duytan.edu
(Media Center)