Exchange Program with the Diplomatic Academy of Vietnam
On March 29, DTU held a meeting, entitled "Culture in Central Vietnam - Trends in Human Resource Training for International Integration". Attendees included delegates from the Diplomatic Academy of Vietnam, Dr. Do Thi Thanh Binh, Dean of the Graduate School at the academy, Dr. Nguyen Tan Thang, DTU Vice-Provost, staff, lecturers and students.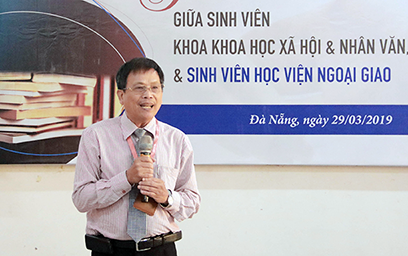 Dr. Nguyen Tan Thang
Despite their 700 km journey from Hanoi, the students from the Diplomatic Academy of Vietnam were friendly and enthusiastic when they first met the DTU Humanities and Social Science students. When the musical performances began they all started get to know each other.
Dr. Nguyen Tan Thang said: "Our motto is: 'We Do Everything for Student Rights and Future Careers'. Over the last 25 years, DTU has educated 94,000 postgraduates and graduates to become highly-qualified professionals in the Central and Central Highlands regions of Vietnam. Today, we will all be able to learn and discuss more about Human Resource education and careers."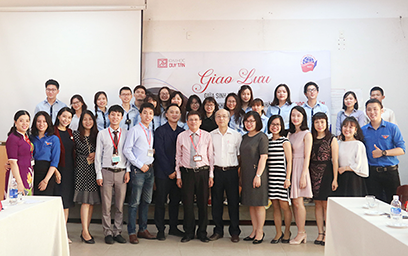 Two delegates pose for a picture
Information on new trends in training to work in internationally, future careers and the differences in the cultures of Central Vietnam were discussed, and student questions were answered by the experts.
Students also talked about their own study and research experiences. They suggested that it is necessary to set goals, decide exactly what to learn, participate in extracurricular activities and know how to balance learning and work in order to optimize results.
In the near future it is hoped that there will be more cultural exchange programs to help students to speak their minds and share the experiences of others.
(Media Center)