DTU Offers a Chinese Language Course in 2019
Learning another language, like Japanese, Korean or Chinese, as well as English, greatly enhances academic qualifications, career prospects and the ability to travel the world on business or pleasure.
In 2019, DTU is beginning to offer a special Chinese program to satisfy the rapidly increasing local demand. We will talk with Dr. Tran Huyen Tian, Dean of Foreign Languages to learn more about scholarship and career opportunities for incoming students.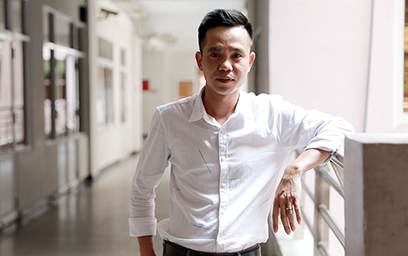 Dr. Tran Truyen Tuan, Dean of Foreign Languages
Reporter: Some people are afraid to learn Chinese because it is perceived as a hard language. Is it as difficult as they say?
Dr. Tuan: There are more than 80,000 unique Chinese characters, which makes us believe that memorization is a never-ending headache learning the language. However, there is no need to worry. The Chinese script is a diagrammatic system which is 4,000 years old but its structure is scientific and logical and can be memorized that way, relatively effortlessly. Any new language must be approached with love and passion and then the student needs a study plan, continuing motivation and practice, although Chinese pronunciation has many similarities to Vietnamese. There are a variety ways to study, such as "studying through playing", by listening to songs, watching Chinese reality shows and movies, and chatting with native speakers to practice listening and speaking. Students only need to study for a month or two to obtain a firm grasp of the Chinese phonetic system.
Reporter: How great is the need for Chinese speakers in the Central region and Vietnam in general?
Dr. Tuan: New international policies have opened up the Vietnamese market and collaboration with more foreign investors, including the Chinese. This has recently significantly increased the demand for Chinese speakers, especially in Danang and Nha Trang. Today, many job postings requiring a knowledge of Chinese by companies, factories and industrial parks are appearing on well-known job-hunting websites. These companies regularly contact educational institutions looking for students and graduates proficient in the language.
There are over 5 million Chinese visitors to Vietnam every year. In Central Vietnam, the Chinese account for a large proportion of these, second to South Koreans, but the demand for Chinese speakers is still outpacing supply everywhere.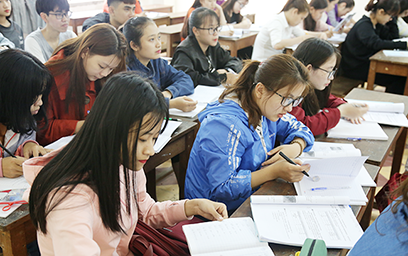 The number of students enrolling in Chinese language studies is increasing
Reporter: Can you, give us some examples of where graduates of Chinese will work?
Dr. Tuan: Presently, people with bilingual skills get well-paid jobs. Companies recruiting in Danang currently include the Crowne Plaza, the Hoi An Casino and the SunGroup. Joint venture companies nationwide also come to universities to recruit.
Reporter: Can you say something about the DTU Chinese program?
Dr. Tuan: Chinese has been taught at DTU for almost 10 years as a second language. There are 10 faculty members, one of whom holds a PhD and another nine with Master's degrees.
Presently, DTU offers:
- Chinese Translation & Interpretation
- Chinese for Tourism
The HSK level 4 is equivalent to a B2 in the European Framework of Reference for Languages and guarantees proficient communication in the workplace. On the course, students also learn about the Chinese culture, society, communications, problem solving and teamwork.
133 credits are required over four years to complete the course. The best students can arrange to shorten their studies to 3.5 years to start looking for a job earlier.
Reporter: Thank you very much!
In 2019 season, DTU continues to award preferential scholarships applicants of Chinese Language
- DTU Scholarships: 720 scholarships worth from one to five million dong each for applicants, including Accountancy, with a total High Graduation Exam three-subject score three to ten points higher than the admissions minimum.
- 700 Scholarships: with total value of over 1 billion dong for applicants, including Chinese language, with a high school transcript score of 22 or above.
Scholarships worth 5 million dong each for first-year students Chinese Language who obtained a consolation prize in a National Excellent Student contest or in a National Science & Technology contest.
For detailed information, please contact the DTU Enrollment Center
254 Nguyen Van Linh, Danang
Hotlines: 1900.2252 - 0905.294390 - 0905.294391
Website: http://tuyensinh.duytan.edu.vn
Email: tuyensinh@duytan.edu
(Media Center)