International Student Exchange Opportunities for DTU Hospitality Students
Tran Doan Cong Thanh is an impressive DTU Hospitality & Tourism student, with a friendly smile and fluent English.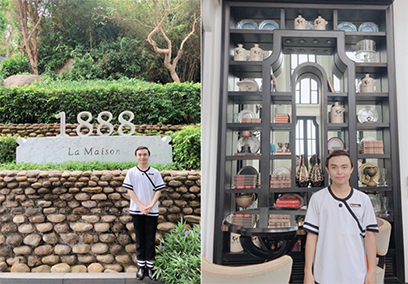 Tran Doan Cong Thanh will work at the Danang Intercontinental Resort
Thanh is currently preparing his graduation dissertation and has already been offered a job at InterContinental Danang Sun Peninsula Resort, a luxury hotel nestled in the heart of the Son Tra Peninsula Nature Reserve.
Fall in love with Danang after one trip to this beautiful city
Tran Doan Cong Thanh has travelled widely since he was a high school student and learns much about the world by observing the local attractions, the culture and the people in the places he visits. When he first came to Danang, he immediately decided to live in this seaside city, although he was born and grew up in Dong Nai province, 600 km south.
"I wanted to study Hospitality in Danang because I love travelling and tourism is a major industry here. There are many Hospitality training institutions in Danang but I chose DTU because my cousin is currently studying IT here and recommended it. I did further research and discovered that DTU has established international Hospitality exchange programs in partnership with Pennsylvania State University. This was of great interested to me because I was looking for an advanced, high-level education combined with first-hand practical experience."
Dare to throw yourself into reality to find out who you are
Cong Thanh's philosophy is simple, "If you want to know more, you must ask". In class discussions, he always questions his teachers to broaden his understanding. "Our DTU lecturers are very dedicated and helpful and always give us quick feedback, even by email.", he said.
Cong Thanh was actively engaged in lectures, workshops and career orientation sessions. He especially enjoyed the field trips to local hotels and resorts, which helped him learn about the many diverse aspects of various local hotels. In his first year, Thanh applied for an internship at the Hyatt Regency Danang Resort and Spa and worked in several different positions there, such as kitchen assistant, waiter, receptionist and butler. Meanwhile, his English improved considerably. After only eighteen months, he confidently applied to work full-time at some other high-end resorts. The Nam Hai-Four Seasons Resort accepted him and even allowed Thanh to continue studying at the same time, in recognition of his strong capabilities and enthusiasm in hospitality.
"You may probably wonder how I find time to work and study at the same time, right? DTU has implemented the credit-based system, which allows a high degree of autonomy. I can sign up for subjects, time slots and lecturers at any convenient time. If I work the morning shift, I can sign up for afternoon or evening classes and vice versa. At work I can apply the theoretical education received in class and put it into practice at the hotel, which gives me a clearer understanding and a deeper grasp of my responsibilities and also simplifies exam preparation."
Spend a year in South Korea on the International Student Exchange program International Student Exchange
Since 2017, the DTU Faculty of Hospitality and Tourism has offered exchange programs in partnership with universities in South Korea, to broaden study and internship opportunities. So Thanh then jumped at this chance and applied to Sejong University in Seoul, South Korea for one year. His experience and practical skills were rewarded with a scholarship.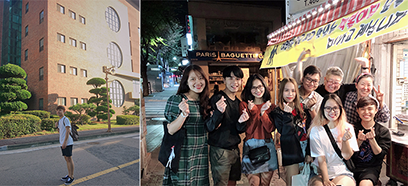 Tran Doan Cong Thanh at Sejong University
"I was fully exempted from Korean tuition and admission fees. I did not spend too much time getting used to the new environment, as the study styles and teaching methods at Sejong University and DTU were quite similar. Foreign students study completely in English, just like DTU, and many topics are taught by foreign lecturers, some from Pennsylvania State University, so I did not feel out of place there.", Cong Thanh said.
While at Sejong University, Cong Thanh worked part-time as a bartender in a Thai restaurant. His year in South Korea helped enrich his overall learning experience and broaden his academic knowledge, enabling him to work for the Intercontinental immediately on his return.
In 2019 season, DTU continues to award preferential scholarships students of Hospitality & Tourism
- 50 full or partial scholarships, totaling 17 billion vnd for the On-Site Study-Abroad American degree program to:
+ Students who who obtained a first, second, third or consolation prize in a national skilled student contest or in a national science or technology contest held by the Ministry of Education and Training,
+ Students with a combined High School Graduation exam score of 22 or more.
- 39 Full scholarships: 100% of tuition fee, with total value of 3 billion dong, for applicants to the advanced and international PSU program in Tourism & Hospitality Management and Tourism & Travel Management, with a total High School Graduation Exam three-subject score of 23 or above.
- DTU Scholarships: 720 scholarships worth from one to five million dong each for applicants, including Tourism & Hospitality Management and Tourism & Travel Management, with a total High Graduation Exam three-subject score three to ten points higher than the admissions minimum.
- 700 Scholarships: from 500,000 to 2 million dong for applicants, including Tourism & Hospitality Management and Tourism & Travel Management, with a high school transcript score of 22 or above.
- Ten scholarships from Pennsylvania State University (PSU): 10 million dong each.
- Scholarships worth 5 million dong each for first-year Hospitality &Tourism students who obtained a consolation prize in a national skilled student contest or in a National Science or Technology contest.
Subjects for admissions
Major

Major code

Subjects

High School Transcript

(12th-grade results)

High School Graduation Exam Grade

Tourism & Hospitality Management

7810103

1. Maths, Physics, Chemistry (A00)

2. Maths, Physics, English (A01)

3. Literature, History, Geography (C00)

4. Maths, Literature, English (D01)

1. Maths, Physics, Chemistry (A00)

2. Literature, History, Geography (C00)

3. Literature, Maths, Social Sciences (C15)

4. Literature, Maths, English (D01)

Tourism & Travel Management

7810103
For detailed information, please contact the DTU Enrollment Center
254 Nguyen Van Linh, Danang
Hotlines: 1900.2252 - 0905.294390 - 0905.294391
Website: http://tuyensinh.duytan.edu.vn
Email: tuyensinh@duytan.edu
(Media Center)