The 2018 "P2A-ASEAN in One" Conference
On August 16, DTU opened the 2018 "P2A-ASEAN in One" conference, with the theme to "Discover the Future now and Get Ready for Smart Cities and Industry 4.0: Opportunities and Challenges for ASEAN Students". The four-day meeting offered exchange activities for ASEAN students to strengthen relationships in preparation for integration with their neighboring countries.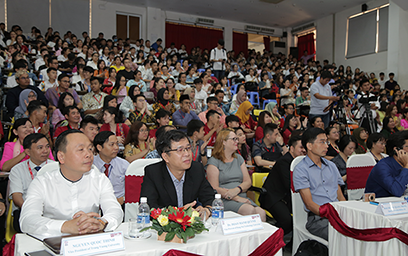 Attendees
Mr. Lee Yoong, Director of Community Affairs; Mr. Jeroen Schedler, P2A Standing Executive Committee Chairman; Mr. Vo Cong Tri, Danang People's Committee Deputy Secretary; Mr. Tran Chi Cuong, Vice-Director of the Danang Department of Tourism; Distinguished Teacher Le Cong Co, DTU President; Dr. Le Nguyen Bao, DTU Provost; Ms. Le Nguyen Tue Hang, DTU Vice-Provost and Member of the Executive Committee of P2A; and 100 ASEAN students attended.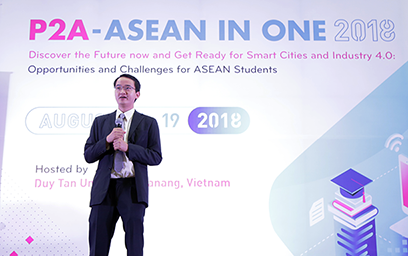 Dr. Le Nguyen Bao, DTU Provost, delivers the opening speech
Dr. Le Nguyen Bao, DTU Provost, said: "Strong technological development has changed the world completely since the time I was still a Computer Science student, twenty years ago. A friend of mine at Carnegie Mellon University told me, "The Industrial Revolution 4.0 is nothing different, because things like client servers, networks, and information sharing have been around for decades."
I disagree, however. The Industrial Revolution 4.0 has created a great many new technological developments, such as machine learning and big data, in addition to others that appeared years before, such as cloud computing and IoT. These technologies may all be familiar to us, but when we look at them in the context of the Fourth Revolution, they are used in radically different ways and are actually brand new.
We warmly welcome the spirit of solidarity at this conference and look for the unanimous support of all students from all ASEAN universities to develop this technology to new heights. I want to express my sincere thanks to you all for attending this event and hope that you will all have a memorable time here at DTU. This is a great opportunity to learn about the Industrial Revolution 4.0 and all become "smart citizens" in the near future."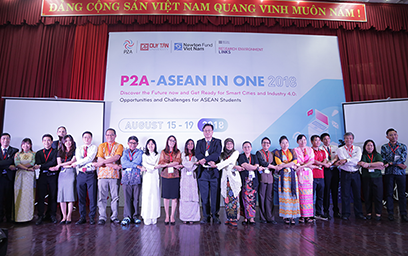 ASEAN students
P2A is a non-profit network that was initiated in June 2012 at the First Assembly of Representatives held at Rangsit University in Thailand. The meeting was attended by Cambodia's Norton University, Duy Tan University from Vietnam, the National University of Laos and the Myanmar Computer Institute. The concepts of P2A were established there, based on the vision of the ASEAN Charter: "One Vision, One Identity and One Community".
The P2A network has now expanded to include 81 ASEAN universities, colleges and research institutes, with one million students. Vietnam is represented now by Duy Tan University, Van Lang University, FPT University and Vung Tau University, the Ho Chi Minh city University of Economics and Law, the Hanoi University of Science and Technology and Dong Nai Technology University.
"I am happy to be here again today to greet all of you from many different ASEAN countries," said Mr. Jeroen Schedler, "When I was still a student, I was lucky to travel and witness the beauty of many different countries, their cultures and their people. However, one thing that still annoys is that, when we experience something different, we sometimes tend to look at the negative side instead of the positive. Every culture in the world has its own unique identity and customs, which makes our world more colorful. P2A was founded, not to point out differences but to connect communities and their people. We should therefore be more open-minded, learn from each other, and strive to develop a strong and prosperous ASEAN community together. You are the future of ASEAN. You are key in shaping its voice and its actions in your lifetimes."
DTU was one of the P2A founders and has successfully arranged numerous activities to help ASEAN integration, including: The 4th P2A Partner meeting, ASEAN Cultural Exchange Meetings and P2A trips to ASEAN countries.
Trishnawati Sovitia Putri, from the Universitas Islam in Indonesia, said: "P2A provided me a unique chance to discover and explore different ASEAN cultures. As well as learning more about ASEAN, participating in P2A helped me improve my critical thinking, enhanced my English presentation skills and my teamwork. This will allow me access to more international career opportunities as the Fourth Industrial Revolution begins."
(Media Center)