An Agreement with Halmstad University
On March 21st, DTU signed an agreement with Halmstad University from Sweden. Attendees included Dr. Ulf Ivarsson, Senior Adviser for Strategic Internationalization at Halmstad University, Dr. Marie Carlsson, Head of the Department of Health & Nursing, Dr. Jeanette Kallstrand, Director of Nursing Studies, Dr. Kristina Ziegert, Associate Professor Nguyen Ngoc Minh, DTU Vice-Provost, Mr. Nguyen Huynh Ngoc, Dean of the DTU Faculty of Nursing, and lecturers and students from the DTU Faculty of Nursing.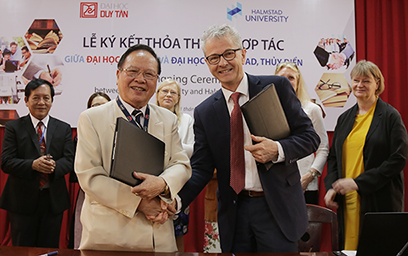 The agreement signing
"Today's agreement with Halmstad University marks an important event which broadens international academic exchange opportunities for DTU students", said Associate Professor Nguyen Ngoc Minh. "The first requirement for DTU Nursing students is to achieve a level of proficiency in English in order to master the advanced training programs transferred from Halmstad University."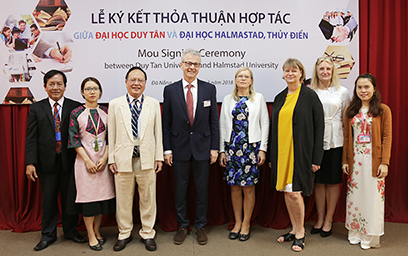 Halmstad University delegates and DTU representatives
Halmstad University was founded in 1983 and is located in one of Sweden's greenest, most liveable and most advanced smaller cities, in Halland Province, on the beautiful southwest Swedish coast. The university is known for its popular and practical programs and small classes, with 10,600 students and 600 employees. It offers around 50 degree programs and 130 courses at different levels, including postgraduate degrees in Innovation Science, IT and Health & Lifestyle.
(Media Center)