Premo Vietnam Recruitment Seminar
On March 13th, DTU and Premo Vietnam held a seminar entitled "Premo Vietnam - Recruitment 2018 R&D Engineer - Careers in Your Hand".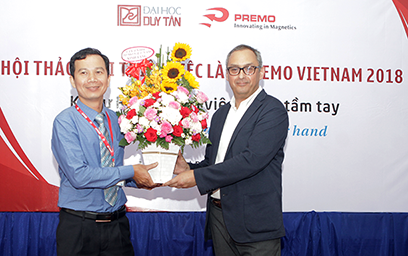 Representative of Premo Vietnam presents flowers to DTU
Mr. Albert Alsina, Technical Manager of Premo, Mr. Vo Nguyen Quy Tu, Head of R&D, Ms. Hoang Minh Hang, Head of HR, Dr. Ha Dac Binh, Dean of the DTU Faculty of Electrical Engineering, Mr. Vu Duong, Director of the DTU Center of Electrical & Electronics and one hundred students from the Faculty of Electrical Engineering attended.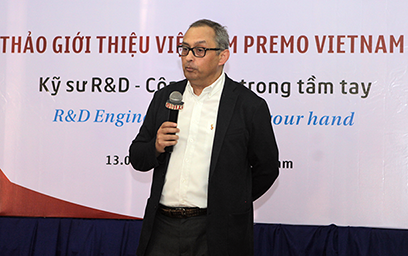 Mr. Albert Alsina
The meeting enabled Premo to meet and identify potential candidates for recruitment and offers the ideal working environment for young, dynamic employees. Premo is a Spain-based company that develops, manufactures and markets electronic components, with 35 representative offices in Asia, Europe and the Americas. Premo first arrived in Vietnam in 2015 and have been recruiting qualified graduates from local universities ever since.
(Media Center)