Hue Central Hospital to Be Primary Internship Host for DTU Medical Students
DTU and Hue Central Hospital signed an agreement in 2017 to allow students to do internships at the hospital and, on June 22, they met again in Hue to broaden their partnership. It was decided that Hue Central Hospital will now be the primary source of internships for DTU General Practitioner and Odontoid-Stomatology majors.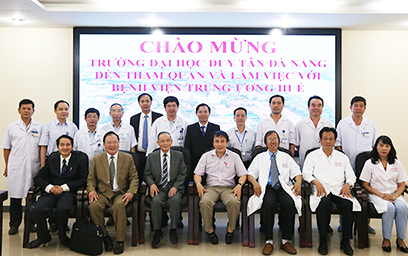 Representatives of the Central Hospital meet with DTU
Hue Central Hospital was founded in 1894 by decree from Emperor Thanh Thai to serve the Court and the French. After 124 years, it is one of the three largest hospitals in Vietnam, with campuses 1, 2, and the International Hue Central Hospital. The hospital brings together the many skilled professors and doctors, constantly working together to improve their capabilities. The hospital recently successfully performed two trans-Vietnam heart transplants, requiring meticulous technical skill and mental control to race against time for the patient's survival. Such operations are epic, where the practitioners work silently, pray to ultimately achieve results that can prove magical.
The staff of the Hue Central Hospital share a passion for medicine and a resolve to train skilled and ethical students. The meeting with DTU was personal and open-minded. "Although I was born in Quang Nam, I fought for the revolution in Hue for 16 years," said Hero of Labor and Distinguished Teacher Le Cong Co, DTU President and Provost. "In all those years, in addition to founding and leading the Youth and Student Movement, I traveled all over Hue and became fully knowledgeable of this city. This is why I always feel like I'm returning to my sweet home every time I come back. After the country was liberated, I went to Danang to found DTU, with a desire to improve the education of the impoverished and was fully supported by the leadership of the city. Many organizations and businesses also stood with us then to improve student education. And now, Hue Central Hospital is enthusiastically welcoming and supporting DTU students with internships and our proposal to open a practice hospital in the near future. This is a great joy for me and will allow us to further improve the standard of our medical workforce. It represents a new step in the development of DTU, with its already excellent reputation in the fields of Medicine, Pharmacy and Nursing in Central Vietnam."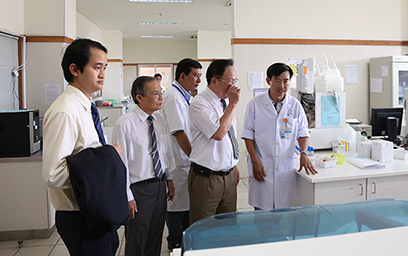 DTU representatives tour Hue Central Hospital facilities
According to current regulations, hospitals are allowed to sign agreements and become main internships hosts for up to two educational institutions only. With this opportunity, DTU has invested in two 30-seat coaches to conveniently transport students to and from Hue.
"I was invited to the 2017-2018 school year opening at DTU." said Professor Pham Nhu Hiep, National Assembly member and the Director of Hue Central Hospital. "I was extremely impressed with the ongoing development of there. However, this morning, I was further impressed at the Q&A session, when Deputy Prime Minister Vu Duc Dam mentioned that DTU, as a private university, was one of the leading research universities in Vietnam. Hue Central Hospital is therefore very proud and happy to be partner with such a prestigious institution. We are a big hospital, so DTU can confidently send students to internships in the many fields here, including cardiovascular surgery, cancer, blood transfusion hematology, internal medicine, interventions, odonto-stomatology and so on. We have been partners for a long time already but today's meeting will open up even more opportunities to enhance the education of highly-skilled medical students in the future."
(Media Center)