The CULP Delegation Visits DTU
On June 20, DTU met with the United States Army Cultural Understanding and Leadership Program delegation (CULP). Attendees included Lieutenant-Colonel Michael S. Kavadias, Director of Military Science at Bucknell University and the head of the delegation; First Lieutenant Elizabeth Narramore and eleven cadets; Ms. Nguyen Thuy Anh, Head of the Overseas-Vietnamese Division; Dr. Le Nguyen Bao, DTU Vice-Provost; Dr. Jolanda Tromp and Dr. David Saiia, DTU lecturers and DTU ADP students.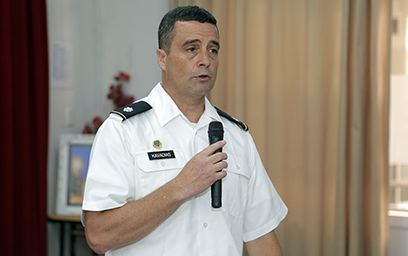 Lieutenant-Colonel Michael S. Kavadias
Lieutenant-Colonel Michael S. Kavadias had many kind words for the youth, the development of Danang and for the level of education that DTU excels at in Vietnam. He said: " This was the first time we had visited Danang and its beauty and hospitality highly impressed us. We discovered that DTU is one of the largest universities in Central Vietnam. Hopefully, the meeting would lead to a better understanding between the two nations and tighten relations between CULP and DTU."
CULP gave an overview of America and its Reserve Officers' Training Corps (ROTC) program, which is a university level training program aimed at preparing and expanding human resources for the US Army. The ROTC helps students pay for part or all of their university tuition fees, in exchange for four years of obligatory service in the US Army on graduation.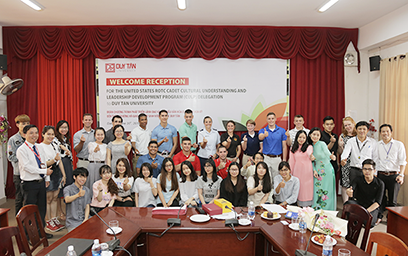 DTU and CULP delegate pose for a picture
The question and answer session between the US Army cadets and DTU students was of great interest and the participants played basketball together at the DTU Hoa Khanh Nam campus.
(Media Center)