DTU Partners with CMC Telecom
On December 23rd, DTU signed an agreement with the Danang branch of CMC Telecom. Mr. Le Trong Thanh, Vice-Director of Vietnam CMC Telecom and a Director of the Danang company, Dr. Nguyen Tan Thang, DTU Vice-Provost, representatives of CMC, DTU departments and students attended.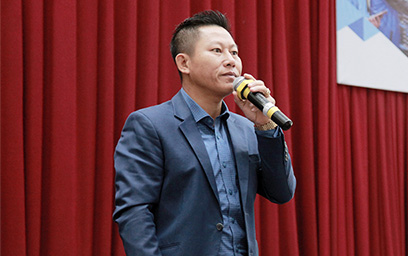 Mr. Le Trong Thanh speaks
Mr.Thanh said: "We highly appreciate DTU's strength in partnering with prestigious universities and companies worldwide to offer our students with the best education possible. DTU has provided companies like CMC Telecom with highly qualified staff. We know that our students will now have even more opportunities studying, researching, interning and working in an ideal environment".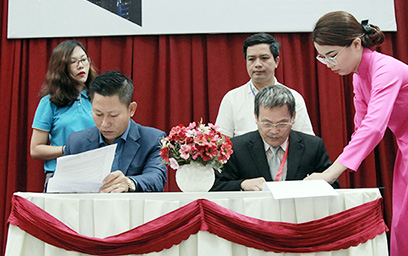 DTU signs the agreement with CMC Telecom
Under the agreement, CMC Telecom will organize workshops and recruitment programs for DTU students, with opportunities for internships and full-time jobs at CMC Telecom as engineers and salespersons.
Dinh Viet Tam, a K19EVT student remarked: "Internships at CMC Telecom are great opportunities for us to learn more about our future requirement and professions."
CMC Telecom is jointly owned by Vietnam's CMC Group, a leading ICT firm with 24 years in Vietnam, and TIME dotcom, Malaysia's second largest fixed-line telecom service provider. CMC Telecom is now an official IBM and Microsoft provider of information security and cloud computing services to Vietnamese and foreign companies in Vietnam. CMC Telecom provides basic telecommunication services and integrates them with information technology solutions and digital content services that brings the highest value-add to companies such as Internet Leased Line, WAN and VTVnet.
(Media Center)