Advertising Technology and Internship Opportunities at DAC Tech Vietnam
On November 16th, the DAC Tech Vietnam company met up with DTU students majoring in IT to introduce them to Advertising Technology and internship opportunities. The event attracted more than 200 students from the DTU Faculty of Information Technology and the International School.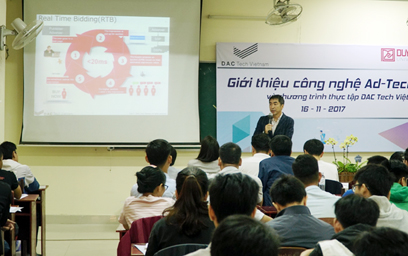 Mr. Touya Yukifumi, Technical Director of DAC Tech Vietnam.
At the meeting, Mr. Touya Yukifumi, Technical Director of DAC Tech Vietnam, talked about the company and the Advertising Technology. DAC Tech Vietnam is a Japanese-owned company specialized in internet ad software development and testing. DAC Tech Vietnam has consulted for and developed numerous technological products in the field of advertising, and solved the remaining problems in order to bring business efficiency to customers. In 2016, its revenue had increased from 14,000 USD to 325,000 USD after 2 years of operations.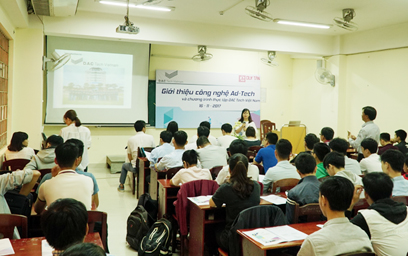 DTU students
Mr. Touya said: "Today, there are many kinds of advertising via the Internet, email/SMS, videos and so on that easily get access to customers. Therefore, work in this field is also diverse, requiring workers to be dynamic, creative, passionate in programming and to have good logical thinking. Currently, DAC Tech Vietnam is offering interns in IOS, PHP, JAVA and Ruby programming positions. When working at the company, senior DTU students will learn from professional engineers and work with real projects from Japan. In addition, they will be able to participate in many outdoor activities such as sport clubs, teambuilding, kickoff parties, happy hours and so on. DAC Tech Vietnam also provides them with free lunch and an allowance of 2 million dong, and qualified interns are likely to get full-time positions at the company."
At the end of the meeting, applicants had to first take a skills test. If successful, they will be invited for an interview. Successful candidates will be offered a four-month internship at DAC Tech Vietnam, starting on December 4th.
(Media Center)