"Steady Careers at Unilever" Meeting
On October 31st, the Unilever Company held a meeting entitled "Steady Careers at Unilever" for DTU seniors majoring in Economics.
The biannual Unilever Fresh Program (UFRESH) shows students how to start up and plan their careers using the 70-20-10 model. DTU is the only university in the Central region to be chosen to hold a UFRESH meeting during the 2nd recruitment session of the year.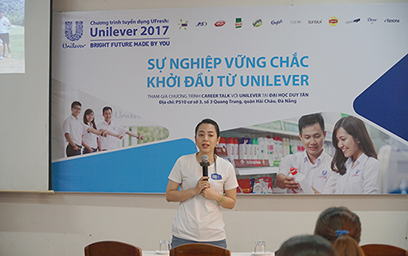 Ms. Mai Thi Anh Thu
"Steady Careers at Unilever" is UFRESH's commitment. During the six-month training course, students will work in real jobs with real responsibilities in a dynamic and professional working environment. Outstanding performers will then be offered full-time jobs at Unilever.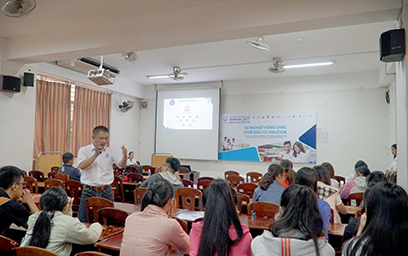 DTU students
Ms. Mai Thi Anh Thu, the Human Resource Director at Unilever Vietnam, talked about the company, job opportunities and employment requirements, tips on writing a CV and ways of answering interview questions. To help newly graduated college students develop, Unilever gives priority to recruits with less than two years work experience.
Mr. Nguyen Phu Quoc, a 2013 UFRESH-er, said: "I have gained a lot of practical experience at UFRESH, in management and situational social problem-solving skills, from superiors and colleagues."
Nguyen Thi Duy Hung, a student of the DTU Faculty of Business Administration, said: "The meeting was useful and informative for final year students. I have already participated in many career orientation sessions at DTU and meeting and talking with recruiters helps improve the skills needed in our future jobs"
DTU often holds career orientation meetings to broaden graduate job opportunities and cooperation between DTU and local businesses.
(Media Center)