Career Orientation and Business Startup Event for Social Science Students
On August 26th, the DTU Startup center and the Faculty of Humanities and Social Science held the career orientation and business startup event, beginning with a series of startup activities for students of Hospitality and Tourism, IT, Health Science, Business Administration, Accounting and others. Ms. Tran Thi Le Chi, a DTU alumnus and Director of Rong Tien Sa Media; Mr. Nguyen Trung Hieu, a journalist and representative of Nguoi Lao Dong newspapers; Dr.Nguyen Tan Thang, DTU Vice-Provost; Mr. Nguyen Kim Giang, Vice-Director of the DTU Start-Up Center; Dr. Tran Xuan Hiep, Dean of Humanities and Social Science, Hospitality, the International School and Architecture attended.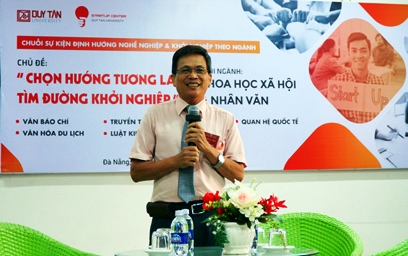 DTU Vice-Provost, Dr. Nguyen Tat Thang, speaking
Dr. Nguyen Tan Thang said: "In 2017, DTU is determined to thoroughly improve the quality of education and research in order to enter the list of the top 300 Asian universities, including the incorporation of Startup studies into our curricula. We want to modify our teaching methods to graduate professionals who can risk starting up their own businesses, instead of applying for normal company jobs."
"Entrepreneurship requires four main attributes: self-control, innovative thinking, passion and a quest for wealth. Based on these criteria, the DTU Startup center and DTU Startup Community will introduce more new startup activities for our students.", said Mr. Nguyen Kim Giang.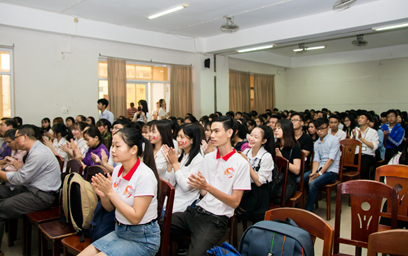 Many students attended
Ms. Tran Thi Le Chi talked about the how she established Rong Tien Sa Media and advised students to work hard and passionately. Mr. Nguyen Trung Hieu, talked about his work with a newspaper company and advised them to read frequently to learn about future careers, such as journalism.
Rong Tien Sa Media signed an MOU to establish a DTU Media Community for Humanities and Social Science students to share their passion and find the best jobs. Career orientation and training courses will be organized to improve their knowledge and job skills in the media field.
(Media Center)