Career Opportunities at Marriott International Hotels and Resorts
On December 7th, representatives of Marriott International Hotels and Resorts met with DTU students majoring in Tourism to introduce them to the internship opportunities at Marriott International – Voyage.
Attendees included Ms. Nguyen Thi Minh Thu, Human Resources Director of Sheraton Da Nang; Ms. Nguyen Thi Ngoc Tram, Head of the Sheraton department of Training and Development; Dr. Bui Kim Luan, Vice-Dean of the DTU Faculty of Hospitality & Tourism and DTU students.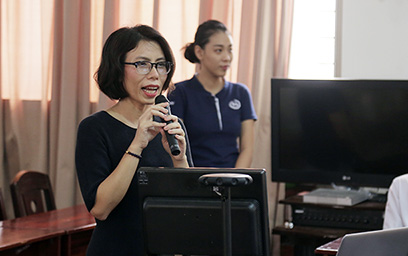 Ms. Tran Thi Minh Thu talked about internships
Ms. Nguyen Thi Minh Thu introduced Marriott International, Inc. as a leading global lodging company, headquartered outside of Washington, D.C. in Bethesda, Maryland. It owns 30 well-known hotel branches, a result of a merger with Starwood Hotel & Resort. In Viet Nam, its branches include Sheraton Saigon, Da Nang, Nha Trang, Ha Noi, JW Marriott Phu Quoc Emerald Bay, Le Meridien Saigon, JW Marriott Hanoi, Renaissance Riverside Saigon and so on. She advised students on internship programs. At Marriott International, staff is respected and plays an important role; also, they can develop their skills and get promoted.
Marriott International offers final-year students and graduates an internship program to train to become managers. Applicants, if selected, will receive the same salary as a supervisor at one of the hotels of the group. Students will be trained in both knowledge and professional skills for 1 to 1.5 years. Later, they will have a chance to be promoted to manager if a position were to become available.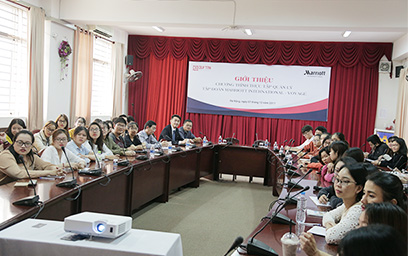 DTU students
The program will help students set up a study plan and enhance their professional skills in order to find a good job. The meeting also strengthened the relationship between DTU and Marriott International Hotels and Resorts in training the highly qualified human resources to meet the recruitment demands of enterprises.
(Media Center)