Recruiting IT Talent for Japan
On November 18th, DTU and the IGS ASIA Company held a seminar entitled "Recruiting IT Talent for Japan". ISG talked about their "Global IT Talent" project to identify potential candidates for employment in Japan.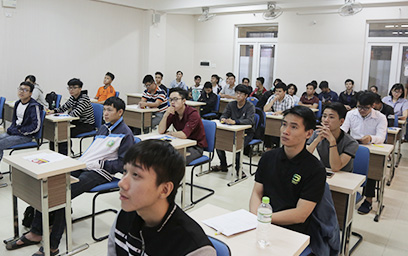 DTU students
Attendees included Mr. Duy Nghiem, Ex-Senior Project Manager of FPT Software, Ms. Tuyet Nguyet, HR Specialist from the IGS ASIA Company, Human Resocia and 50 students from the DTU Faculty of Information Technology. Mr. Nghiem worked in Japan in IT Software for 17years.
Ms. Nguyet gave an in-depth talk about the 'Global IT Talent' project: "Currently, the Japanese population is ageing rapidly, leading to a shortage of 600,000 IT specialists. However, this presents an excellent opportunity for Vietnamese job candidates. Preparing to offer positions in Japan to 3,000 newly-qualified graduates, IGS and Human Resocia are collaborating with leading Japanese companies such as Panasonic, Mitsubishi, Hitachi Canon and NTT Data."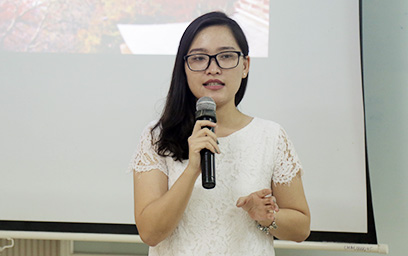 Ms. Tuyet Nguyet
Applicants will be interviewed and undergo a personality and competency test developed by IGS. If successful, they will be employed by big Japanese companies with the same salary and benefits as their Japanese counterparts, including business trips, accommodation and a two-way air ticket allowance.
IGS is a start-up company specializing in EdTech and HR Tech since 2010 and Human Resocia is a human resources company founded in 1988. They provide human resources, job and skills training, international consulting, outsourcing and personnel management. The seminar was a unique opportunity for final-year DTU students intending to study or work in Japan to understand more about the life and work of an IT expert there.
(Media Center)