A Field Trip to the Intercontinental Resort
With the focus on real-time hospitality practices, on June 21st DTU organized a field trip to the Danang Intercontinental Resort for lecturers in the Tourism and Hospitality Faculty. The trip was part of a DTU business collaboration program to improve the quality of education and training for the future workers.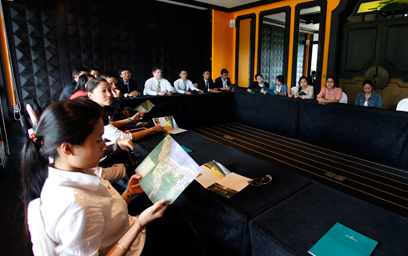 Representatives of the Intercontinental Resort
provide an overview
Under the guidance of Mr. Duong Van Dung, Restaurant Manager at the
Intercontinental Resort, the DTU faculty visited the French restaurant, learnt about kitchen operating procedures and watched the chefs at work. During a meeting with hotel

representatives, the DTU

delegation received useful information about personnel policies, customer service and development strategies. With this type of hands-on information, lecturers will be able to enhance future lesson planning activities.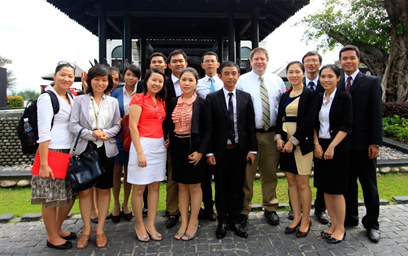 DTU lecturers at the Intercontinental Resort
Ms. Duong Thi Uyen Khue said: "It was a very useful field trip. Besides making lectures more interesting, we will now be able to provide students with practical information that will definitely help them plan their careers better."
At the end of the trip, on behalf of DTU, Mr. Nguyen Cong Minh, Dean of the Tourism and Hospitality Faculty, expressed his gratitude to the Intercontinental Resort Management for their warm hospitality.
(Board of Website Editors)