The Run Your Own Business 2012 Closing Ceremony
Fifty DTU students were granted Certificates of Completion for the "Run Your Own Business" course. The closing ceremony was held in collaboration with the Vietnam Business Forum Newspaper on December 24th. Teacher of Excellence, Mr. Le Cong Co, DTU Provost and President, Mr. Nguyen Tien Dung, chief representative of the Vietnam Business Forum newspaper in the Central region, DTU faculty and students attended the ceremony.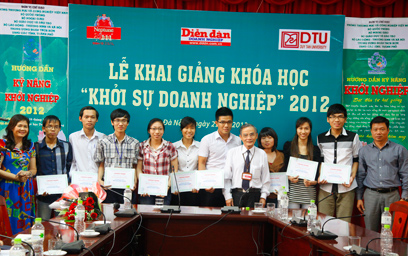 The organizers present certificates to DTU participants
The two-day course was run by Ms. Nguyen Thi My Chau, who is a senior lecturer at the International Labor Organization (ILO). Participants learned what qualifications were required in business, how to come up with new business ideas, how to make financial plans and the basic steps to implement a start-up project. DTU students also had the opportunity to learn about the experiences of several successful business people in Danang.
According to Mr. Nguyen Tien Dung, students acquired a basic concept of how to run a business after the course. He emphasized: "Running one's own business is not that difficult. It could be a coffee shop, a small restaurant or a motorbike cleaning shop. The most important thing is to be well prepared and have a positive outlook. Hopefully, the Vietnam Business Forum newspaper will continue to work with DTU to offer more courses to help DTU students plan their own careers."
Talking about his own unimaginable difficulties encountered since the inception of DTU, Mr. Le Cong Co advised "It is very critical for you to take part in such courses and you should take full
advantage of them"
(Board of Website Editors)