The "Standard IT Skills Examination" Conference at DTU
On October 9, the DTU Learning and Testing Center, in conjunction with VITEC and IPA, held a conference on the "Standard IT Skills Examination for the Development of Vietnam's IT Human Resources". Mr. Kazunori Sadachi from IPA Japan, VITEC Deputy-Director Dr. Chu Anh Dao, DTU Vice-Provost Dr. Nguyen Tan Thang and DTU IT students attended.
The standards are a set of the necessary skills and knowledge base required by prospective IT employees, based on overall current corporate needs. The standards are set to establish common measurements for the assessment and development of the IT workforce. They also help students tailor their education and knowledge, and develop the exact professional skills, in line with the needs of prospective employers.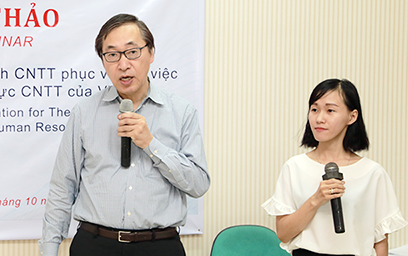 Mr. Kazunori Sadachi, a representative of IPA Japan, speaks
The Japanese delegates first presented their IT standard skills examination used in Asia, and in Vietnam in the near future. They also offered advice on how to train for the exam and gave the audience specific information on the target group of each of the examination types, their basic requirements, testing times, exam formats and content, along with grading and assessment methods.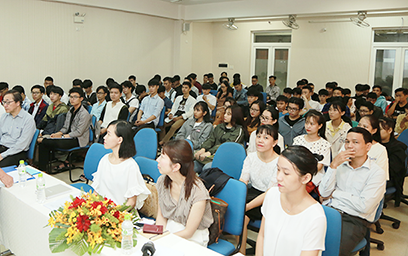 DTU IT students attend the conference
IP, FE or AP Certificates provide many career advantages. They verify employee IT skills based on widely recognized standards, confirm their levels in the IT industry, give priority to applicants applying to Japanese or Vietnamese companies for jobs and long-term Japanese work visas, and ensure attractive salaries.
"DTU has always paid special attention to collaborating with business over the past 25 years," said DTU Vice-Provost Dr. Nguyen Tan Thang. "Close relations with business allow us to effectively improve training programs to meet current corporate requirements and the students to broaden their skills through internships at local companies and abroad. I hope that our partnership with VITEC to hold these IT examinations in the near future will allow provide DTU students to learn more about recruiter requirements and for companies to accurately assess them."
(Media Center)