The 2019 DTU Job Fair with 5,371 Job Vacancies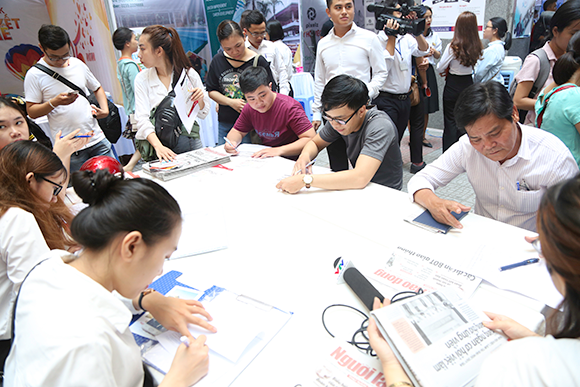 Applicants receive consultancy on choosing a career that fits their abilities and interests
On June 7th, DTU held the 2019 Job Fair, with representatives of 80 national businesses in attendance, recruiting for more than five thousand positions.
The recruitment rates for careers at the 2019 Fair showed the actual demand for jobs in society. The IT industry accounted for 11%, hospitality made up 31%, finance-banking accounted for 9%, the health sciences took 4%, trade & services made up 30% and the others 7%.
Dr. Nguyen Huu Phu, DTU Vice Provost, said that collaboration between universities and businesses has become a common trend worldwide, which helps enhancing the quality of education, research and technology transfer. A great concern and issue at many universities now is to find ways to improve education standards and graduate better-qualified students.
According to a recent job survey, since 2012, 100% of DTU students of the CMU advanced international programs, in collaboration with Carnegie Mellon University in the US, immediately got a job after graduation. These remarkable achievements came from the sustained efforts DTU has made in partnering with international universities and local corporations to broaden career opportunities for its students.
In the 2018-2019 academic year, over 1,600 postgraduate students, university Bachelors and college Bachelors received their diplomas.
(Media Center)