An Agreement with Rikkeisoft
On September 28, DTU signed an agreement with the Rikkeisoft company. Attendees included Mr. Vuong Quang Hung, Director of the Rikkeisoft Danang branch; Dr. Nguyen Huu Phu, DTU Vice-Provost; Rikkeisoft staff, DTU Information Technology lecturers and students.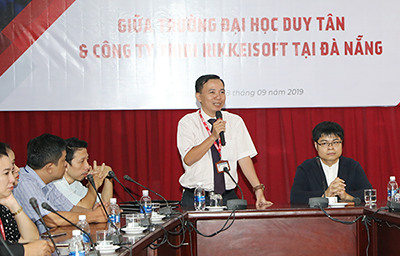 Dr. Nguyen Huu Phu, DTU Vice-Provost speaks
Dr. Nguyen Huu Phu said: "DTU is celebrating its 25th anniversary in November, marking a milestone on the road to becoming one of the most popular universities in Vietnam. We were the first public or private university in Vietnam to receive ABET accreditation for Networking Engineering and Management Information Systems. 100% of our graduates are employed within six months, 94% in IT companies. I hope that our business partnerships will continue to expand and help DTU achieve even more success in the near future."
Rikkeisoft was founded in 2012 in Hanoi and is one of the leading outsourcing and software development companies in Vietnam, receiving numerous awards from the Vietnam Software Association (VINASA). Rikkeisoft has since expanded into southern Vietnam, with branches in Danang and HCMC and currently employs 1,000 software engineers.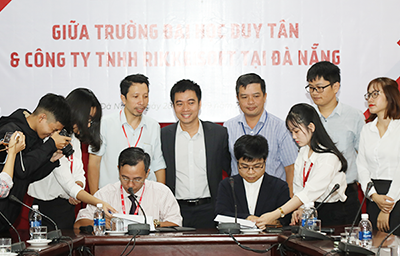 The MOU signing
Under the agreement, DTU and Rikkeisoft will recruit and train IT students for the Rikkeisoft Vietnam-Japan program, by organizing research projects, hiring qualified staff, conducting career orientation sessions and broadening internship opportunities for DTU students.
Mr. Hung said: "We at Rikkeisoft focus on the development of innovative products, using the most advanced technology, in order to be on the cutting-edge of the industry today. With our broad expertise in project implementation, Rikkeisoft offers offshore development services, including online education, medical, business, mobile applications, and game development systems. Our experienced project managers and talented IT professionals provide the very best services to satisfy the demanding requirements of our domestic and foreign customers."
At the 2019 IT Gala, students listened to experts divulging their secrets of success and offering career advice. They could also compete in the Road to Mount Olympia contest in programming languages and the future of IT in the 4.0 era. The competition included complex questions on starting, overcoming hurdles, accelerating and finishing projects.
Then the IT students produced lively and exciting musical performances, ending with a Lucky Draw for incredibly attractive prizes presented by Rikkeisoft. IT Gala 2019 is part of a series of events to celebrate DTU's 25th anniversary and is aimed at boosting student confidence, enthusiasm, dynamism, study spirit and specialized skills.
(Media Center)