The 2019 DTU Graduation Ceremony
On September 14, DTU graduation ceremony was held for Bachelors, Engineering, Architecture, Pharmacy graduates and Associate Bachelors and Professional graduates. Attendees included Professor Nguyen Ngoc Minh, DTU Provost, faculty deans, department centers, students and families.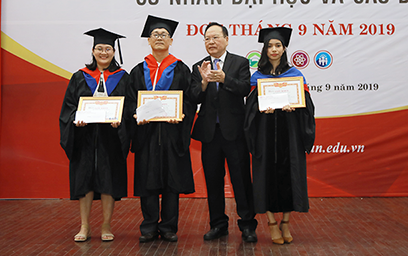 Associate Professor Nguyen Ngoc Minh awarded Certificates of Merit to valedictorians
Associate Professor Minh said: "Today is an important day in your lives and you are now mature enough to go your own way. We will no longer stand beside you however, but will always follow in your footsteps and look forward to receiving good news from you. You may encounter a lot of unexpected obstacles and challenges on the way. Stay calm, keep going and try your best to achieve your lofty goals."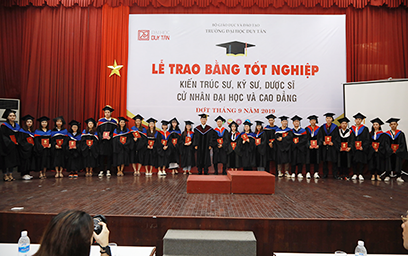 The new graduates
At the ceremony, DTU awarded Bachelor and Associate degrees to 516 graduates. Three valedictorians, Nguyen Thi Hien, Nguyen Thi Len and Tran Duc Hoang Long were awarded Certificates of Merit and gifts.
Tran Duc Hoang Long, a new graduate, said: "Today is the day we reap the benefits of all our hard work. However, we could not have completed our studies without the dedicated instruction of our lecturers and the support of our families. I will apply what I learned to my future job and keep learning more to build the foundation for a steady future career."
(Media Center)