LC Medicom and the Suganuma Group Offer Scholarships and Jobs to DTU Nursing Students
In late July, LC MediCom conducted the first interviews of 29 senior DTU Nursing students. Thirteen passed and received scholarships and cash stipends to study Japanese and work in Japan on graduation, in June 2020.
On September 11, DTU met again with the Suganuma Group and LC Medicom to discuss future plans to improve the education and Japanese language ability of Nursing students. Then, on September 13, LC MediCom conducted interviews, awarded scholarships and offered jobs to 42 senior DTU Nursing students.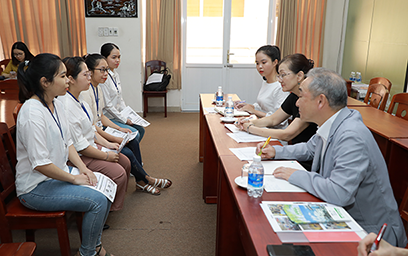 LC Medicom interviews students
Mr. Suganuma Kurato, CEO of Sugaruma, said: "On behalf of LC Medicom and several Japanese partners, we would like to thank DTU for your strong support. We have signed an MOU to work together on educational and work programs to prepare to graduate highly-qualified nurses. After two successful interviews, we selected the best candidates for scholarships and job offers in Japan."
After their internships, the nurses will work in Japanese hospitals as nursing assistants for three to five years. The Suganuma Corporation will provide them with visa fees, flight tickets, free accommodation, 159,000 Japanese yen living expenses per month (32 million vnd) and lessons in the Japanese language and culture.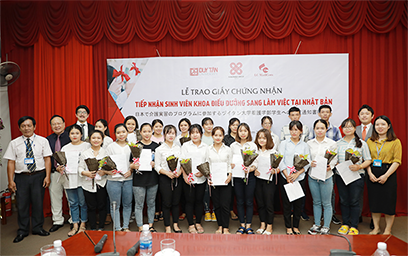 LC Medicom and the Suganuma Group with DTU lecturers and students
Doan Van Luc, from class K22YDD3, said: "I was so happy to pass the interview. Now I don't have to spend time looking for a job after graduation and hope this internship in Japan will expand my career opportunities. Thanks to Duy Tan University for an excellent education and several joint study and overseas work programs. I will work hard to improve my Japanese and other qualifications to prepare myself to face the challenges of living in Japan."
(Media Center)