DTU Hosts the 5th International Research Summer School
DTU and the British Council jointly held the 5th International Summer Research School from August 20th to 24th. 54 out of the 88 participants earned full scholarships to study for PhDs in Europe, America and Australia.
Dr. Nguyen Huu Phu, DTU Vice-Provost, speaks at the opening ceremony
This annual event broadens attendee knowledge and research skills through courses taught by professors from leading international universities, and also covers the latest information on scholarships available, how to apply, how to locate supervisors, and how to live in and study for a PhD in developed countries.
Dr. Nguyen Huu Phu, DTU Vice-Provost, said: "This is the fifth time this event has been held at DTU and we always try hard to offer our students as many study and research opportunities as possible. 50% of those with full-scholarships go to the UK, France, Japan and the USA, demonstrating the benefits of holding the summer school. Hopefully, more of the post-graduates attending the event this year will also be eligible to apply for scholarships later."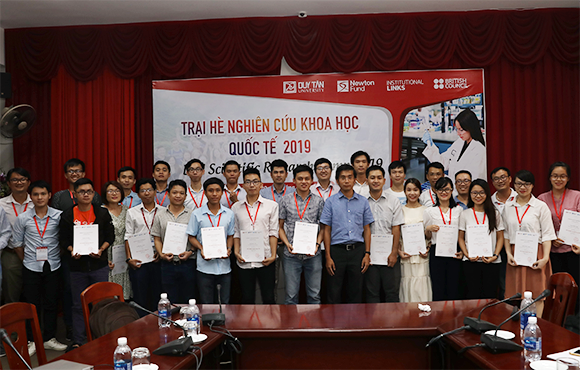 Post-graduates seeking scholarships at the International Research Summer School
This year's summer school was attended by 30 post-graduates from universities in Ha Noi, Quy Nhon, Hue, Ho Chi Minh City and Danang.
Lecturers included Associate Professor Duong Quang Trung; Dr. Nguyen Dinh Long from Queen's University in Belfast; Research student Ha Phuong from Lincoln, Nebraska; and Dr. Ha Dac Binh and Dr. Vo Nguyen Son from DTU, who presented tips on how to prepare effective references and citations, make presentations, follow ISI paper formats and the use of software in research and computational applications.
Overall, attendees were fully updated on everything they needed to know about PhD scholarships, life as a PhD student and career options on graduation. They were also able to receive feedback on their Electronics Telecommunications and Information Technology projects.
(Media Center)