DTU: 840 International Publications from 2018 to 2019
Affirming fundamental research growth at DTU
In the 2018 academic year, DTU gained an impressive achievement, with lecturers and researchers publishing 840 international papers out of a total of 1,264 submissions. 90% were published in prestigious journals and selected by the American Institute for Scientific Information (ISI) and the Dutch scientific catalog system Scopus. Significantly, 60% of these have a DTU lecturer or researcher as the main or corresponding author.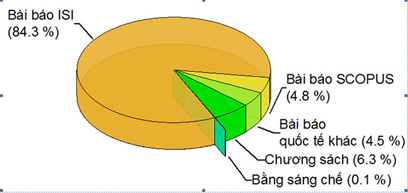 Density chart of international publication types
DTU researchers are active in all fields:
•
Medicine, pharmacy, nursing: 17%
•
Computer science, electrical engineering: 17%
•
Civil engineering: 12.5%
•
Environmental and food sciences: 6%
•
Economics, management, hospitality, social sciences: 6%.
A multidisciplinary university with a diversity of research types ensures a high standard of education, where ultimately the students benefit most as an outcome of the research.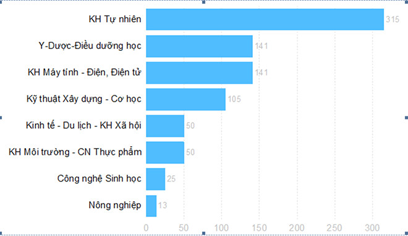 Chart of number of international publications by field
Affirming research quality
DTU also focuses on the quality of research as well as the quantity. Quality is usually measured by an Impact Factor (IF) and a journal ranking (from Q1 to Q4) in the corresponding fields. In the 2018 academic year, DTU had 11 publications in journals with an IF over 50, 22 publications from 10 to 50, and 210 from 3 to 10.
Impact factors for some of the most famous leading journals are: The New England Journal of Medicine (IF 79.3), Lancet (IF 53.3), JAMA (IF 47.7), Advanced Energy Materials (IF 21.9), Reports on Progress in Physics (IF 14.3), Nature Communications (IF 12.4), PNAS (IF 9.5), Carbon (IF 7.1), Cancer Research (IF 9.1), the Journal of Materials Chemistry A (IF 9.9), Annals of Tourism Research (IF 5.1), and the Journal of Sustainable Tourism (IF 3.3). 52.7% of the DTU papers were published in Q1 and 35.5% in Q2 journals.
DTU has also successfully registered a small number of its first patents nationally and internationally.
In the 2018 academic year patent number RU2661210C1 was issued after one year with the title "A method for obtaining the composite sorbent with magnetic properties", granted by the Russian Federal Service for Intellectual Property, RUPTO, to Dr. Le Van Thuan of the DTU Center for Advanced Chemistry and his team.
The patent describes a way of producing sorbents with high performance magnetic properties for use in wastewater treatment, from powdered coffee grounds. The team claims that, after commercialization, the invention will be highly important in environmental protection. Applying the patent brings two advantages: (1) processing coffee grounds, a waste product from the food and beverage industry which is otherwise discarded, and (2) providing a sorbent for low-cost industrial wastewater treatment.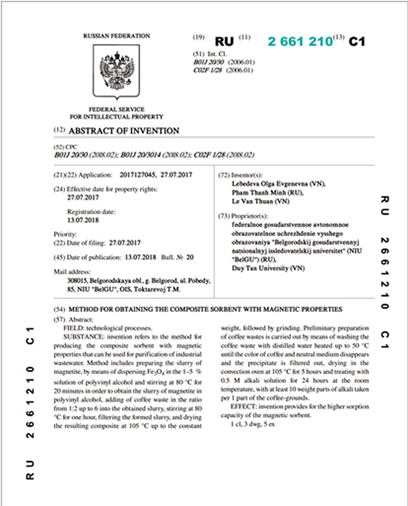 All these developments indicate that DTU is constantly consolidating its research capability.
(Media Center)