Representatives from 30 Young Academies Worldwide at Conference in Vietnam
According to an announcement from the State Committee for Overseas Vietnamese of the Ministry of Foreign Affairs, the Global Young Academy agreed to have the Vietnam Young Academy (VYA) and DTU) organize the "4th Worldwide Meeting of Young Academies" from July 31 to August 2 at DTU in Danang.
This is the first time the meeting has been held in Vietnam, which was the result of the Vietnam Young Academy lobbying the Global Young Academy to select Vietnam as the venue for its next conference, to enhance the reputation of Vietnamese education and establish stronger connections with the rest of the world.
This Global Young Academy event has been held on three previous occasions, in the Netherlands in 2012, Sweden in 2015 and South Africa in 2017, with the objective of sharing ideas and creating a collaborative network of young scientists worldwide.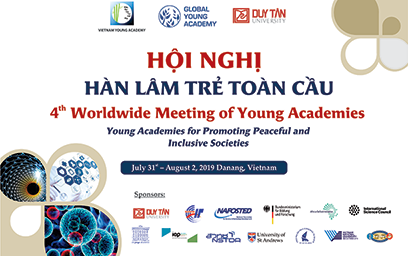 4th Worldwide Meeting of Young Academies at DTU
The Vietnam Young Academy, a member of the Global Young Academy network, was founded in 2014 to connect young Vietnamese scientists with Vietnamese scientists abroad, in various fields, to discuss important national and international issues.
The 4th Global meeting of Young Academies focused on the impact of science and technology on socioeconomic development. One hundred members of youth academies from over thirty countries took part.
Also in the framework of this event, the Nanomaterials for Healthcare conference will take place from July 29 to 31, with over twenty leading experts in nanomaterial applications for medicine.
In 2018, the Vietnam Young Academy held five international conferences, in Phu Quoc, Nha Trang, Hanoi and Dong Hoi, on a variety of subjects, including computer engineering, research and development, Chemistry and Bioinformatics. Their success was due to the exchange of information on useful research projects and resulting policy recommendations.
(Media Center)