Nanomaterials in Medicine Conference
On July 29th, DTU worked with the Vietnam Youth Academy to organize the conference entitled "Nanomaterials for Healthcare", where scientists reported on their latest research and applications, met students and encouraged them to expand their research activities. Sixty professors, scientists and researchers attended.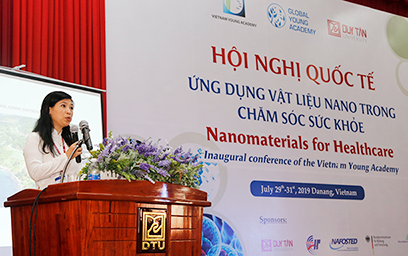 The scientists Photo: AN
Of sixty participants, eighteen experts come from 10 different countries presented, including Australia, Japan, Singapore, Germany and the US, together with others from major Vietnamese universities.
Topics covered included nanomaterials for drug delivery, nanomaterials for sensors and imaging, bio-nano interactions and nanotoxicology, microfluidics and bioengineered models, and clinical challenges.
Professor Nguyen Thi Kim Thanh, from the University of London, observed that the conference will result in young Vietnamese scientists participating in exchanges with their peers from well-developed countries and learn from their experiences.
The National Foundation for Science and Technology Development (NAFOSTED), the Ministry of Education and Training, the Ministry of Foreign Affairs, the Committee for Overseas Vietnamese and the Business Association of Overseas Vietnamese also supported the event.
(Media Center)