A DTU Lecturer Presents at the 2019 Cultural and Arts Composition Camp
From March 24 to 30, the Vietnam Association of Architects Training Board and the Da Nang Association of Architects jointly held the 2019 Cultural and Arts Composing Camp with the theme "Symbiosis between contemporary and traditional architecture in urban Vietnam, particularly in Danang and Hoi An". Dr. Le Vinh An, Dean of the DTU Faculty of Architecture, was a member of the Board of Organizers and a keynote speaker.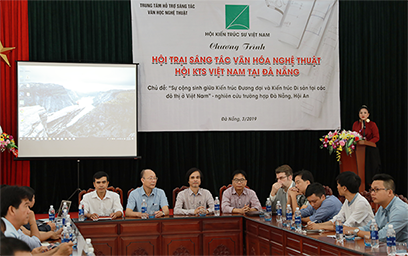 Participants
This year, the purpose of the camp was to provide tours of the area and set up teams to suggest solutions to some outstanding local architectural issues. The groups applied the Project Design reasoning method to make expert comments and proposals to come up with effective solutions.
Currently, the balance between the preservation and exploitation of architecture at local heritage sites is still a problem yet to be satisfactorily resolved. Some of the preserved architecture is still improperly used or overexploited, harming its real value. This challenge therefore drew much attention and focus at the camp.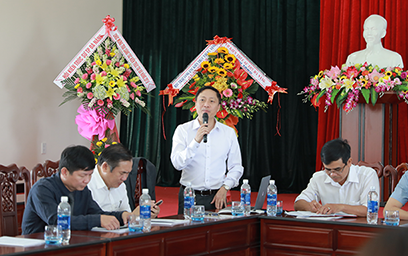 Dr. Le Vinh An
Dr. Le Vinh An has is a leading expert in this field in Central Vietnam and has conducted much valuable research dedicated to the preservation of traditional Vietnamese architecture.
His research "Heritage Towns and Vietnamese Heritage Architecture: The theory of preservation and development" offers an insightful and comprehensive view of various local examples, including the Loa, Hue and Dien Hai citadels, and Hoi An Ancient Town, with clear descriptions of their outstanding features, with solutions on how to preserve and develop them, such as offering heritage education programs at all levels. "Heritage education will kindle our admiration and respect for our traditions", he said.
Established in 2006, the Cultural and Arts Composition Camp is now a famous traditional Architectural event which allows participants to learn, exchange experiences and promote the harmonious development of Vietnamese architecture.
(Media Center)