The International Conference on Cancer Prevention and Control
Cancer is very difficult to cure in its later stages and is becoming a major threat worldwide because of the rapid increase in patients.
The International Conference on Cancer Prevention and Control was jointly held by DTU and the "Fostering Innovation through Research, Science and Technology (FIRST)" project on November 9, and attended by Vietnamese and foreign scientists. The talks presented research on the latest ways of preventing and controlling cancer.
Lifestyle changes to prevent cancer
Scientists now believe that cancer can also be caused by personal lifestyles choices, as well as by genetic mutations, exposure to harmful chemicals and so on, which raises peoples' hopes. However, the determination of individuals and communities is vital in improving cancer prevention.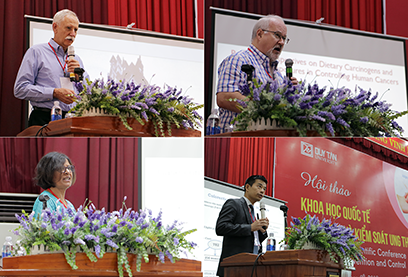 (From left to right) Professor Walter C. Willett, Harvard School of Public Health; Professor Robert J. Turesky, University of Minnesota; Dr. Rashmi Sinha, National Institute of Health; and Dr. Motoki Iwasaki, National Cancer Center of Japan
The scientists presented several causes of cancer, including lifestyle and food. Professor Turesky said: "Proper nutrition is vital, as unhealthy food is a major cause of cancer. Many chemicals are added in food preparation and preservation. For example, the overcooking meat forms heterocyclic aromatic amines, which can cause liver, pancreatic, stomach, intestinal, prostate and mammary cancer. Over-consumption of Aristolochia herbs can produce toxic acristolochic acid, which can seriously affect the kidneys and cause urinary tract carcinoma."
The others supported his opinion and added that eating too much red meat, over-cooking or over-baking food, eating moldy food or storing it for too long all increase the risk of cancer.
Bad habits can also cause cancer and many other diseases. Professor Willett has published 1,521 papers and is a famous international nutritionist and epidemiologist. He pointed out that uncontrolled obesity in youngsters increases their risk of diabetes, heart disease and cancer later on. In her talk "The role of microbiome in diet, obesity, and cancer", Dr. Sinha confirmed that uncontrolled eating leading to obesity is very dangerous.
From another perspective, Ms. Lai Thi Minh Hang presented her detailed research on "Waterpipe tobacco smoking presents a gastric cancer risk among Vietnamese men". When tobacco is lit, the tip can reach temperatures as high as 950 °C and produce seven thousand different chemicals. Waterpipe smoking can also lead to a 6 to 15-fold increase in carbon monoxide levels, taking away the oxygen and threatening those with weakened coronary arteries and lead to pulmonary, bladder, prostate, gastric, and other types of cancer.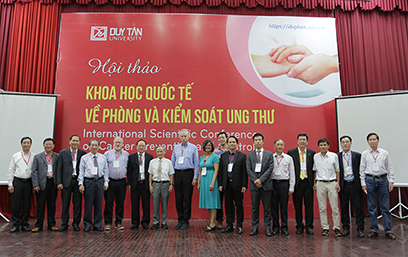 The scientists at the conference
While cancer can appear at any age, the number young people getting cancer has recently risen dramatically. Associate Professor Le Tran Ngoan from the Hanoi Medical University reported, "In Vietnam, liver and cervical cancer are now widespread. To combat this Vietnam is now providing vaccinations, which are economically effective here. At today's conference, many of us mentioned proper nutrition. Controlling our diet is attainable if we focus on heathy food, by eating vegetables, poultry, seafood, beans and so on, exercise regularly and refrain from smoking and obesity. Our objective is to simply promote healthy bodies that resist disease, in support of ourselves and our communities."
Improving the awareness of cancer prevention through education and research
All nations have different strategies to prevent, reduce and cure cancer. Some methods are well-known, not smoking to reduce lung cancer, and vaccination against cervical and liver cancer. However, cancer prevention methods require more intensive research and advanced international conferences to raise people's awareness.
"Conferences bridge principles, methods and the latest research to lecturers and students in regions with the most difficulties, to educate them on cancer prevention," Associate Professor Le Tran Ngoan summarized the value of such conferences. "Holding conferences at DTU is especially meaningful because the university has been offering a General Practitioner major for four years now. I am sure that these conferences will help students understand that doctors should not only diagnose and treat diseases but should also know how to prevent them, to avoid healthy people getting cancer in the first place. Studying medicine requires a long-term work plan right from the beginning."
Dr. Nguyen Hong Long, Vice-Chairman of the Vietnam Cancer Society and Deputy Director of the Danang Oncology Hospital, explained: "The Danang Oncology Hospital is currently receiving many more cancer patients, from the local region and country-wide. If detected early, cancer can be cured or patient life extended, which is why fully educating cancer specialists is vital for early, efficient and cost-effective detection. Medical students currently study pathology, including a course on oncology in their final year. The Oncology Hospital is willing to send its staff out to teach students the basics of common cancer cases."
Professor Willett stressed the significance of the conference. "In my opinion, today's conference is vital for experts to share their experiences and present their latest research and learning together," he said. "At Harvard, we focus on teaching preventive medicine and I constantly remind my students that a doctor who is unable to apply prevention techniques themselves will not be able to communicate these methods to patients. This is why doctors should set a good example by quitting smoking, exercising regularly and eating healthily before they can consult with their patients. Only when medical students understand how to prevent disease and conduct their own research can they discover new methods to help people lead healthier lives."
Associate Professor Nguyen Ngoc Minh, DTU Vice-Provost, remarked, "This conference has attracted the special interest of scientists in Vietnam and abroad. Cancer is a dangerous, high-profile illness with cases rising startlingly all over the world. What we learned here today is particularly important, because it can help us all to improve, prevent, control and cure cancer to extend our lives. The conference offers a forum for scientists to share knowledge, present their latest research, and propose guidelines to reduce the number of people getting cancer in the future."
Experts and doctors from Vietnam and abroad covered in-depth topics, including carcinogenesis, metabolizing chemicals in the body, indicators used to evaluate and predict cancer risk and simpler topics, like lifestyle changes and educating skilled physicians. The discussions provided invaluable information on the prevention, control, diagnosis and curing of cancer today and in the future.
For more information on Medical training at DTU, see
HERE
(Media Center)