The 5th Conference on Electrics, Electronics, Communications and Automation
On November 3, DTU held the 5th Conference on Electrics, Electronics, Communications and Automation, EECA 2018. Researchers, lecturers and students exchanged and proposed innovative ideas and discussed ways promote the research and improve education quality at DTU. Attendees included Dr. Anand Nayyar, Electrical Engineering lecturers and students, and CEE staff.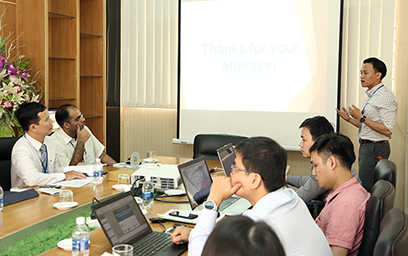 DTU Faculty of Electrical Engineering lecturers
Dr. Ha Dac Binh, Dean of Electrical Engineering said: "This annual conference allows researchers, lecturers and students to learn more about the most advanced technological trends in Electrical Engineering today".
The ten best conference papers were selected for presentation and discussion. These included a diverse range of valuable, practical projects, such as a new color adjustment method for multiple cameras, advanced methods of facial recognition, a shock-absorber socket, a greenhouse and others, some of which will be selected for publication in the DTU Science and Technology Journal.
Dr. Anand Nayyar overviewed the challenges of the "Industry 4.0: Digital Transformation", followed by presentations by Electrical Engineering lecturers, researchers and students.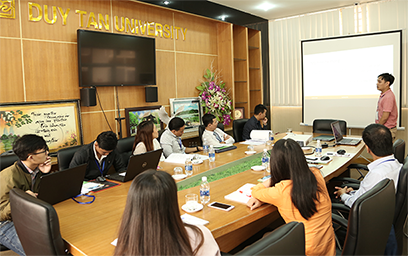 The participants
Experts asked questions and commented on the lecturers' presentations. Student papers were also highly appreciated, particularly the one by Huynh Noc Long on "Smart - IoUT: Smart water environment monitoring system based on the Internet of Universal Technology", proposing a new prototype for an internet-based data collection and analysis system for underwater surveillance. Tran Anh Minh presented research on a new greenhouse which absorbs sunlight from every angle to generate electricity and meet the needs of people, which proves to be a smart and efficient way of creating clean energy.
(Media Center)