DTU Lecturer Submits one of the Top Ten Papers at the 2018 ISAIA Symposium
The 12th International Symposium of Asian Architectural Interchange was held from October 22 to 27 in Jinbu, Seoul, South Korea. DTU was the only Vietnamese representative and recognized for a paper entitled "A Reconstruction Study of the World Heritage Can Chanh Main Palace in Hue Imperial City, Vietnam". The paper was published by Dr. Le Vinh An, Dean of Architecture and selected as one of top ten papers to be presented.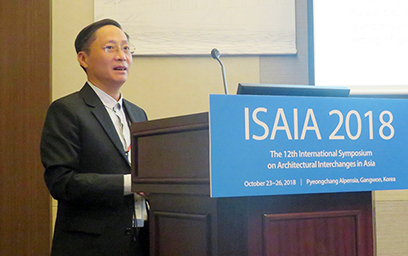 Dr. Le Vinh An
The biennial symposium was first held in 1986 for the benefit of Architects and Construction Engineers and is cosponsored by the Architectural Institute of Korea (AIK), together with the Architectural Society of China (ASC) and the Architectural Institute of Japan (AIJ).
The symposium theme was "The Confluence of Architecture in an Age of Super-Connectivity". Famous architects, such as Mr. Kai Cui, Mr. Riken Yamamoto, Mr. Yoon Gyoo Jang, Mr. Jeong Hoon Lee, Professors and researchers attended and presented ideas to promote the development of the Architecture and Engineering industry, improve education in this field and enable companies to compete at home and internationally.
The DTU paper on the Reconstruction of the Can Chanh Palace in Hue was selected for oral presentation. The author, Dr. Le Vinh An, believes that global integration has helped various countries cooperate, share their knowledge and experiences, and work together. Many new seminars and forums have also been organized to boost the profession in Asia. Architects have a motto which says: "Enhancing Integration but Retaining Core Values", so they traditionally focus on their own unique architectural characteristics, such as World Heritage Sites, to differentiate themselves from others and to reflect their individual national heritage.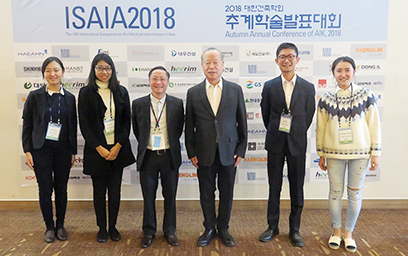 Dr. Le Vinh An with other well-known Asian Architects
The Can Chanh Palace was destroyed in 1947 so a reconstruction study is now important and overdue. It was well-received at the 2018 ISAIA and selected for oral presentation. This achievement allows DTU to keep pace with the latest architectural trends worldwide.
Dr. Le Vinh An said: "In addition to the Academic Sessions for experienced attendees, the Young Architect's Design Session enabled younger architects and students to present innovative projects and ideas. In the future, we hope that more DTU Architecture students will be able to attend big events like this one, share information and familiarize themselves with creative new architectural trends worldwide, to broaden their thinking and skills. Currently, DTU offers international internship programs to those whose papers are accepted at international conferences, who will be upgraded and better equipped to perfect their qualifications and career prospects on graduation."
(Media Center)