DTU Researcher Discovers New Damselfly in Central Highlands of Vietnam
A new species of Damselfly has been discovered by Dr. Phan Quoc Toan, Director of the DTU Center for Entomology & Parasitology Research. It was found in the Ngoc Linh Nature Reserve in Kon Tum province and later in the Kon Ka Kinh National Park in Gia Lai province, Vietnam. The announcement was published in Zootaxa on February 4, naming the new species, Coeliccia Lecongcoi, in honor of Le Cong Co, Hero of Labor and Distinguished Teacher and the first president of Duy Tan University, to commemorate his many years of service to the university.
The Discovery
Dr. Phan Quoc Toan is a nature lover who is interested in insect biodiversity and spent his life doing research in forests. Working hard, Dr. Phan Quoc Toan has discovered many new facts about insects which contribute to a healthy, balanced, and natural ecosystem.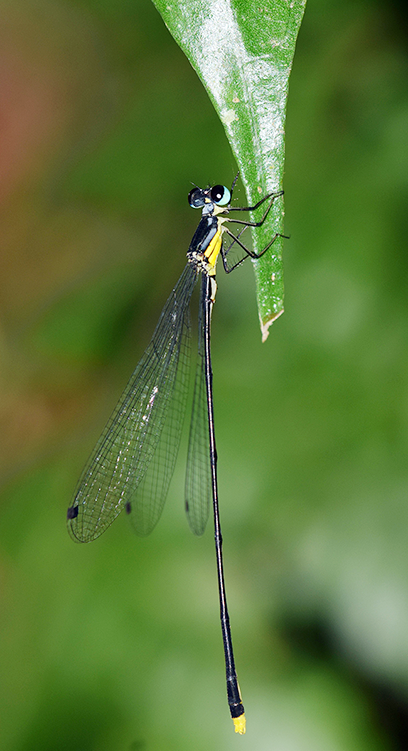 New Damselfly named Coeliccia Lecongcoi
The Damselfly he discovered has a black back and a yellow propleuron, with yellow ocelli, blue genae and a prothorax covered in pruinescence. When Dr. Phan Quoc Toan identified the unique features in this species, he collected specimens, processed them and took them back to the DTU laboratory. After extensive research, he found many more details which confirmed the identification of a completely new species. This Damselfly inhabits small streams 2 to 4mm wide, interspersed with large stones, hidden in dark, dense vegetation, in pristine forest.
In 2017, Dr. Phan Quoc Toan also published a paper on Coeliccia Duytan, another new Damselfly found in the Chu Mom Ray National Park in Kon Tum province, Vietnam. Both species have so far only been located on high mountain plateaus in the Central Highlands. The difference between the two species is that the male synthorax of Coeliccia Lecongcoi has black stripes, while the female has pruinescent spots and a different posterior pronotal lobe of the prothorax. Dr. Phan Quoc Toan's Damselfly research is the first of its kind in Vietnam.
Behind the name Coeliccia Lecongcoi
The report in the Zootaxa international journal, remarked on the Coeliccia Lecongcoi Damselfly being named after a famous person.
It is common for new species to be named to commemorate the lives of important and inspirational people. For example, the Neopalpa Donaldtrumpi moth, found in Arizona and California was named after President Donald Trump, nine others after President Barack Obama and the Riffle Beetle Grouvellinus Leonardodicaprioi after the well-known actor, Leonardo DiCaprio.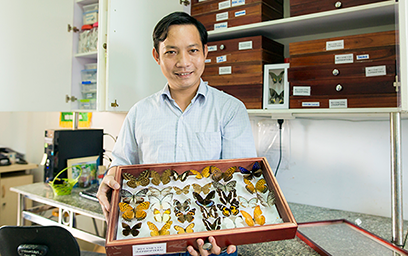 Dr. Phan Quoc Toan is interested in insect biodiversity and spent his life doing research in forests
Dr. Phan Quoc Toan explained: "I named the Coeliccia Lecongcoi Damselfly after Le Cong Co, the Hero of Labor and Distinguished Teacher, whose tireless spirit and drive I greatly admire. My two new species are my way of paying respect to DTU. Their close relationship mirrors the one between Mr. Le Cong Co and DTU. He founded and developed DTU over the past 25 years to become a highly-recognized university nationwide, especially tailored for students in the central regions of Vietnam."
After receiving his PhD in entomology in Japan, Dr. Phan Quoc Toan joined the DTU Center for Entomology & Parasitology Research, which allows him to explore forests in Vietnam and provides a laboratory and equipment for researching, exhibiting and promoting his findings. Dr. Phan Quoc Toan is particularly interested in Damselflies since they are semi-aquatic insects, whose nymphs and adults feed on other insects. Damselflies are also useful bio-indicators for assessing natural water quality and ecosystems. They also play an important role in agricultural development and eradicate numerous pests.
Vietnam is one of the fifteen most biodiverse countries in the world. In 2007, there were estimated to be 235 species of Dragonfly in Vietnam and, over the past 10 years, that number has doubled to nearly 400. Dr. Phan Quoc Toan and his team have been discovering and reporting on dozens of Damselfly species in forests, nature reserves and national parks over the past two years. The study of the diversity of the Damselfly and zoology in general is vital in compiling biodiversity databases to record and measure species conservation, in order to study the origin of species and their varying distribution in times of climate and ecological change.
(Media Center)