7th International Conference on Frontiers of Intelligent Computing: Theory and Applications
DTU and the Pioneer Research Fund and the Computer Society of India organized the 7th International Conference on Frontiers of Intelligent Computing: Theory and Applications (FICTA 2018) for IT researchers, scientists and lecturers to share and present their projects.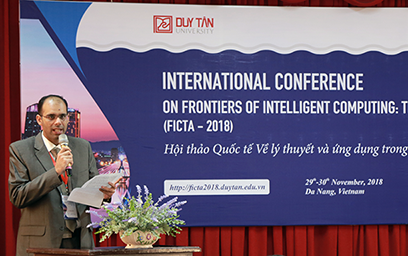 Dr. Anand Nayyar from the DTU Institute for Research and Development
Dr. Anand Nayyar, from the DTU Institute for Research and Development, said: "The new 4.0 Industrial Revolution technology presented today, such as the IoT, Big Data, Cloud Computing and Artificial Intelligence, should significantly improve our lives and this conference will open up more avenues of research for us in the field of Intelligent Computing."
Participants came from India, China, Japan, Australia, Norway, England, Taiwan, Korea, Singapore and Vietnam, and submitted 150 papers. 57 of them were presented at the conference and will be published in the Springer AISC Series, in the SI Proceedings, Scopus, EI-competent, DBLP, Google Scholar and Springer Link.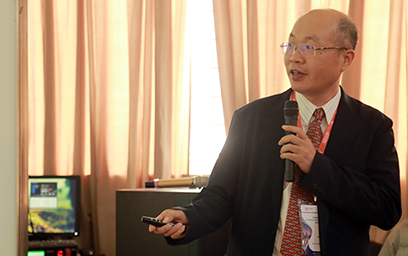 Professor. Sheng-Lung Peng, an expert in Bioinformatics, Combinatorics, Data Mining and Networks at National Dong Hwa University in Taiwan
Professor Sheng-Lung Peng and Dr. Nayyar delivered 2 keynote talks, on Wireless Sensor Networks (WSN), computing theory, and experiments on balancing sensor nodes, giving the audience some fresh ideas for future research.
In his "The Internet of Drone Things - Next Generation Drone Technology" paper, Dr. Nayyar talked about the advantages of drones. For entertainment purposes, drones can capture amazing pictures of natural beauty, while in agriculture, farmers can detect areas with poor yields to target with herbicides and fertilizers. Other drone applications include atmospheric research and natural disaster warning. Drones can also navigate hazardous areas, like volcanoes and radioactive territory. He emphasized that the next generation of drones will become more intelligent when implemented as IoT based applications.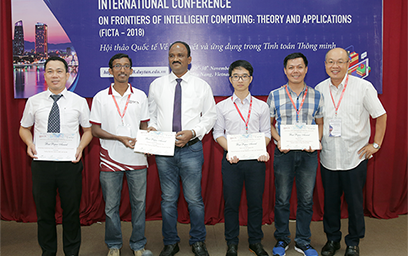 Mr. Huy (left) and his team receive an award for the best paper
DTU contributed 4 papers, on IoT and Deep Neural Network Based Intelligent and Conceptual Model for Smart Cities; Robot Path Planning Using Modified Artificial Bee Colony Algorithms; Privacy, Security and Policies: A review of problems and solutions involving sematic web technologies; and Tracking Big5 Traits Based on Mobile User Blog Data.
The Big5 team received a best paper awards and demonstrated how mobile users' personalities can be predicted, based on mobile phone log data from Orange Sonatel Senegal, with other characteristics predicted through further calculations. They also presented the Big5 tracking tool to verify their results.
(Media Center)