Smarter Computational models Solve challenges of the 4.0 Industrial Revolution
According to Dr. Anand Nayyar from the DTU Institute for Research and Development, new 4.0 Industrial Revolution technology, such as the Internet of Things, Big Data, Cloud Computing and Artificial Intelligence, should significantly improve our lives and the FICTA 2018 will open up more avenues of research in the field of Intelligent Computing.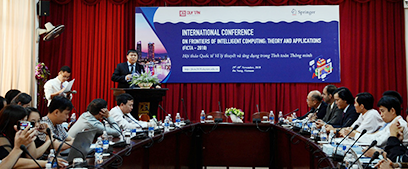 On November 29 - 30, DTU and the Pioneer Research Fund and the Computer Society of India organized the 7th International Conference on Frontiers of Intelligent Computing: Theory and Applications (FICTA 2018) Dr. Vo Thanh Hai, DTU Vice-Provost, delivers the opening speech. Photo: T.N.
The 2018 FICTA was for IT researchers, scientists and lecturers to share and present their latest projects.
Dr. Vo Thanh Hai stressed that: "In the context of the 4.0 Industrial Revolution, more and more applications have been created to solve the increasing issues which arise when building a smart city and we can now exploit IoT to improve the quality of life. The challenge is to analyze and manage large blocks of data for future application development. Researchers are now beginning to implement their own smart computational models and solving problems quicker and more efficiently."
Professor Sheng-Lung Peng, an expert in Bioinformatics, Combinatorics, Data Mining and Networks at the National Dong Hwa University in Taiwan, delivered a keynote talk on Wireless Sensor Networks in computational theory, and experiments on balancing sensor nodes.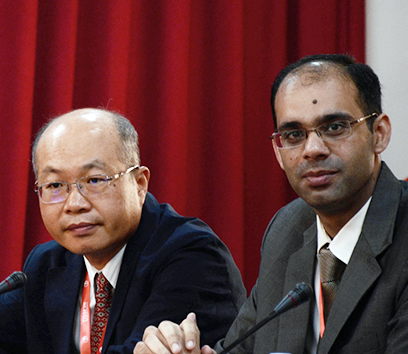 Professor Sheng-Lung Peng (left) and Dr. Anand Nayyar. Photo: TN
From "Internet of Drone Things"...
In his "The Internet of Drone Things - Next Generation Drone Technology" paper, Dr. Anand Nayyar talked about the advantages of drones, which gave the audience some new ideas for future projects. For entertainment purposes, drones can capture amazing pictures of natural beauty, while in agriculture, farmers can detect areas with poor yields to target with herbicides and fertilizers. Other drone applications include atmospheric research and natural disaster warning. Drones can also navigate hazardous areas, like volcanoes and radioactive territory. He emphasized that the next generation of drones will become more intelligent when implemented as IoT based applications.
Participants came from India, China, Japan, Australia, Norway, England, Taiwan, Korea, Singapore and Vietnam, and submitted 150 papers. 57 of them were presented at the conference and will be published in the Springer AISC Series, in the SI Proceedings, Scopus, EI-competent, DBLP, Google Scholar and Springer Link.
... to "Tracking Big5 Traits based on Mobile Phone User Log Data"
DTU contributed 4 papers focusing on IoT, Artificial Intelligence and Big Data, including IoT and Deep Neural Network Based Intelligent and Conceptual Model for Smart Cities; Robot Path Planning Using Modified Artificial Bee Colony Algorithms; Privacy, Security and Policies: A review of problems and solutions involving sematic web technologies; and Tracking Big5 Traits Based on Mobile User Log Data.
The "Tracking Big5 Traits based on Mobile Use Log Data" by DTU researchers received a best paper award and demonstrated how mobile phone users' personalities can be predicted, based on mobile phone log data from Orange Sonatel Senegal, with other characteristics predicted through further calculations. They also presented the Big5 tracking tool which verified their results.
The 2018 FICTA jury selected the five best papers, including:
1. Domain-specific vs. General-Purpose Word Representations in Sentiment Analysis for Deep Learning Mode, developed by Bui Thanh Hung.
2. Design and Implementation of an IoT-Based Water Purifier System Enabling Predictive Maintenance, developed by Luong Vinh Quoc Danh, Dang Vu Minh Dung and Nguyen Duy Khanh.
3. Improved Generalized LED Index Modulation for Visible Light Communication, developed by Manh Le Tran and Sunghwan Kim from South Korea.
4. An Efficient Privacy Preserving Search Scheme for Encrypted Cloud Data, developed by Veningston K and P V Venkateswara Rao from India.
5. Tracking Big5 traits based on mobile user log data, developed by DTU Master's degree students: Nguyen Thanh Binh, Dang Ngoc Dung, Nguyen Thi Thuy Ha, Ha Thi Trang, Phan Thi Huong Lam and Truong Dinh Huy.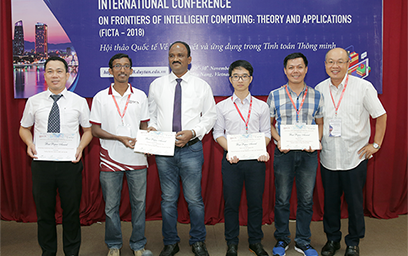 FICTA awards a Best Paper Certificate to post-graduate Truong Dinh Huy (left), a lecturer at the DTU International School. Photo: Quoc Bao.
(Media Center)