Latest Advances of Nano Materials in Healthcare
The Nanomaterials for Healthcare (NMH) International Conference took place from July 31 to August 2 at DTU. The event was jointly hosted by the Vietnam Young Academy (VYA), the Global Young Academy (GYA) and DTU.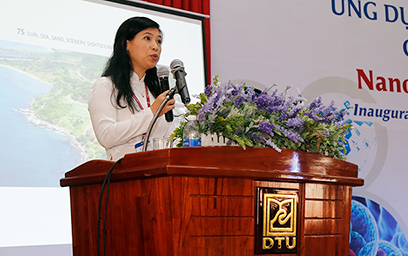 Professor Nguyen Thi Kim Thanh
According to Associate Professor Nguyen Ngoc Minh, DTU Vice-Provost, over 30 speakers and 100 researchers from the UK, France, Germany, Italy, Finland, the US, Australia, Japan, South Korea, Singapore, China, Malaysia and Vietnam attended. Topics covered included nanomaterials for drug delivery, nanomaterials for sensors and imaging, bio-nano interactions and nanotoxicology, microfluidics and bioengineered models, and clinical challenges.
In her welcoming speech, Professor Nguyen Thi Kim Thanh from the University of London observed that the conference will result in young Vietnamese scientists participating in exchanges with their peers from well-developed countries and learning from their experiences.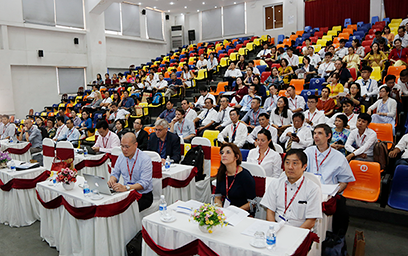 The conference
Professor Nguyen Thi Kim Thanh is the founder and Chairperson of the VYA Advisory Board of the Vietnam Young Academy. She has just won the 2019 Rosalind Franklin Award for her significant research achievements in the field of nanomaterials.
Professor Jochen Feldman from the German National Academy of Sciences talked about "Optical and Thermophoretic Forces on Plasmonic Particles" and Professor Nguyen Thi Kim Thanh presented a paper entitled: "Plasmonic and Magnetic Nanoparticles for Biomedical Applications". Of the seven papers presented on July 27, the most remarkable was entitled: "Nanostructured Polymer-Metal Composite Particles" by Associate Professor Hiroshi Yabu, from Tohoku University in Japan, who won the 2016 Ichimura Prize in Science for Distinguished Achievements, the 2014 Young Scientist Award and the 2014 Konica Minolta Award.
Another twelve papers were presented on July 30 and 31, including "The Engineering of Magnetic-based Nanoplatforms for Theranostic" by Professor Sylvie Begin from the European Engineering School in Chemistry at the University of Strasbourg in France, and "Aptermers, Nanoparticles and Nanodevices - Application in Healthcare Theranostics", by Professor Tony Cass from Imperial College in London, who won the Sir George Stokes Award in 2017, the Chemical Landmark Award in 2012 and the Royal Society's Mullard Medal in 1994.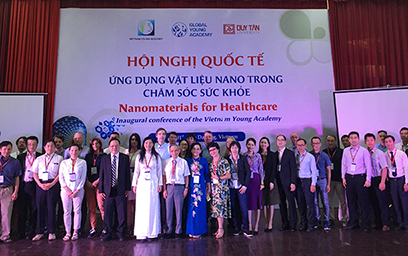 The participants pose for a picture. Photo: N.T.B
The main objective of the NMH conference was to bring together practitioners, researchers and educators from around the world to exchange knowledge and ideas on the medical applications of nanomaterials for healthcare. The conference was held concurrently with the 4th International Meeting of Young Academics (WWMYA).
(Media Center)