The 4th Global Conference of Young Academies with Communal activities for High School students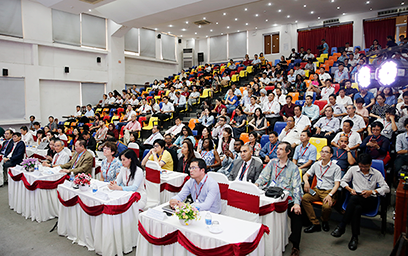 Sixty delegates from 34 young academies worldwide attended.
On July 31st, DTU, Global Young Academy and the Vietnam Young Academy jointly held the 4th Worldwide Conference of Young Academies, themed "Young Academies promoting peaceful and inclusive societies".
Sixty professors, scientists, scholars and researchers from 34 young academies worldwide attended, including Japan, Germany, Albania, Australia, Bangladesh, Benin, Burundi, Cameroon, Colombia, Coted'Inroire, Egypt, Ghana, India, Indonesia, Israel, Kenya, Lavia, Malaysia, Moroco, Nepal, Netherlands, Nigeria, Pakistan, Philipine, Poland, South Affica, South Korea, Spain, Srilanka, Sudan, Thai, Uganda, the USA and Vietnam.
In the framework of the global meeting of young scientists, several communal activities of the scientists for students at high schools in Quang Nam province and Danang took place, including the three topics: "Nano materials addressing global health challenges", "A remote message - explore the universe in search of yourself: 4 activities with 6 teams", and "A painting contest on a Scientist".
(Media Center)