MOU Signed with Suganuma Corporation and LC Medicom
On July 29th, DTU signed agreements with the Suganuma Corporation and LC Medicom from Japan, attended by Mr. Suganuma Kurato, CEO of Sugaruma; Mr. Hashimoto Kazuhisa, General Director of LC Medicom; Distinguished Teacher Le Cong Co, DTU President; and Health Sciences lecturers and students.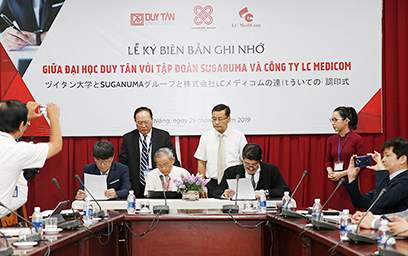 The signing
"In recent years, many joint educational and work programs have been implemented in Japan for Health Sciences students," said Associate Professor Nguyen Ngoc Minh. "As a result, skilled and disciplined graduates will return to serve their country. Today's agreement comes after a long period of investigation, discussion and consensus-building between the three partners. It will open up great opportunities for learning and experiencing a real-time foreign work environment and increase the chances of graduates finding suitable careers."
The partners will work together to provide an education in basic Nursing skills and the Japanese language. Suganuma Corporation will supply Japanese teachers and plan the courses, LC Medicom will provide the necessary materials and medical equipment and 30 scholarships for successful candidates.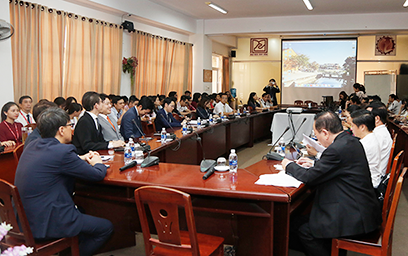 Health Sciences lecturers and students attend the signing
The DTU students will work with expert Japanese nurses during their internships and job in Japan, who will help those with financial difficulties and arrange for the necessary Japanese student visas.
(Media Center)